Hxro Network basata su Solana raccoglie $34 milioni in un round
In arrivo una nuova piattaforma di trading di derivati decentralizzata The post Hxro Network basata su Solana raccoglie $34 milioni in un round appeared first on The Cryptonomist.
Hxro Network, piattaforma basata su Solana, ha raccolto $34 milioni in un token round di finanziamento, co-guidato da SIG DTI, Jump Crypto e Blockchain Capital.
I fondi raccolti hanno come obiettivo la costruzione di una nuova piattaforma di trading di derivati decentralizzata Solana-based.
Solana-based Hxro Network e $34 milioni di finanziamento
A sostenere Hxro Network basata su Solana con il suo round di finanziamento da $ 34 milioni, sono stati 3 speciali e "nascosti" guidatori, insieme ad altri noti partecipanti.
Secondo quanto riportato, la Susquehanna International Group, un'importante (anche se segreto) negozio di trading di azioni tradizionali, ha co-guidato il round attraverso la sua ala di venture, SIG DT, insieme a Jump Crypto – l'azienda di Robinhood per l'elaborazione di crypto-exchange – e Blockchain Capital, una società di venture crypto.
Tra gli altri partecipanti, poi, nomi come Alameda Research, Chicago Trading Company, Solana Ventures, Coinbase Ventures, Commonwealth Asset Management, hanno deciso di investire non solo il progetto Hxro Network ma anche la sua rete Solana, su cui verrà sviluppato il progetto.
Il nuovo round di finanziamento arriva solo quattro mesi dopo che Hxro Network ha raccolto altri 15 milioni di dollari.
Solana e la nuova piattaforma di trading di derivati Hxro Network
Ecco la carrellata di tweet di Hxro Network per annunciare il tutto:
We are pleased to announce the completion of a $34 million strategic investment round co-led by SIG DTI (a Susquehanna International Group Company), Jump Crypto and Blockchain Capital.
— Hxro.Network (@HxroNetwork) November 30, 2021
"Siamo lieti di annunciare il completamento di un round di investimento strategico da 34 milioni di dollari co-guidato da SIG DTI (una società di Susquehanna International Group), Jump Crypto e Blockchain Capital. Questo round è un'ulteriore convalida della visione basata sulla comunità di Hxro Network per costruire il primitivo di derivati decentralizzati più robusto e scalabile disponibile sul mercato. Attraverso un ampio coordinamento, la rete ha riunito alcuni dei partecipanti più esperti sia del mercato tradizionale che di quello delle criptovalute per progettare e costruire i suoi elementi fondamentali più critici. In circostanze normali queste squadre sarebbero ferocemente competitive l'una con l'altra. Tuttavia, tutti condividono l'obiettivo comune di sbloccare le complesse frizioni che esistono nei mercati storici e creare un mercato aperto attraverso l'applicazione della tecnologia decentralizzata. Come comunità, stiamo creando una base molto potente per i derivati decentralizzati per scalare e diventare una parte significativa del tessuto del panorama globale dei derivati.
In sostanza, Hxro Network vuole diventare il primo DEX di derivati. La prima versione (v1) di Hxro Network dovrebbe essere lanciata su Solana dal mese prossimo attraverso fasi, tra cui futures, opzioni e swap perpetui.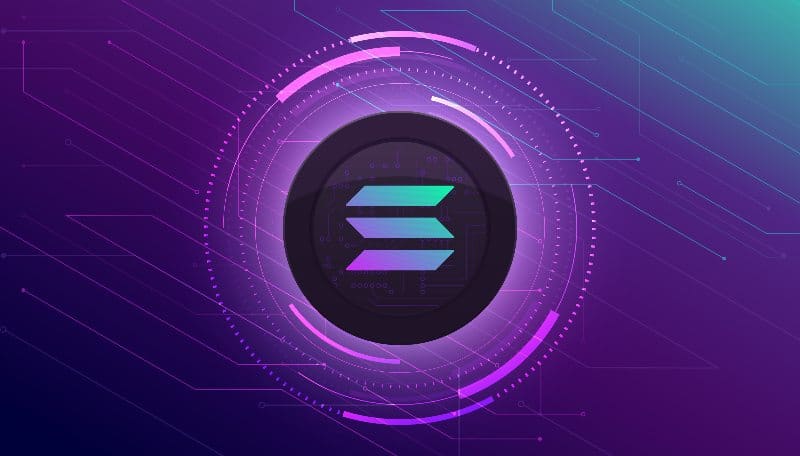 La rete utilizzerà un protocollo unico per facilitare la governance della rete, gli incentivi di liquidità e le ricompense. Il valore della rete Hxro deriverà in gran parte dalle commissioni di transazione generate all'interno della rete.
Il cento per cento del valore della rete maturerà per i titolari di token HXRO, gli operatori di nodi specializzati, la tesoreria della rete e i pool di sviluppatori vitali per la scalabilità e la funzionalità della rete.
Inoltre, Hxro si comporrà con Pyth Network come suo oracolo di dati primario, e si comporrà anche facilmente con i libri degli ordini di Project Serum. La rete integrerà anche Civic, che fornirà un'architettura critica di conformità del livello primitivo.
SOL e il suo prezzo
Nel frattempo, la crypto di Solana (SOL), blockchain base di sviluppo per Hxro Network e per molte altre dApp, sta scalando la classifica, piazzandosi al momento della scrittura in quinta posizione per capitalizzazione di mercato.
Solo nelle ultime 24 ore, il prezzo di SOL è salito dell'8% passando da 201$ a 220$. Ancora abbastanza lontani (anche se non troppo) dal suo ATH – All Time High di 260$ toccati all'inizio dello scorso mese di novembre.
Solana (SOL), lanciata lo scorso aprile, è stata inclusa insieme ad Avalanche e Cardano, tra le crypto definite "Ethereum Killer", in quanto la sua blockchain dovrebbe elaborare 50.000 transazioni al secondo, rispetto alle 15-30 di Ethereum, con costi di $0,00025 per transazione, almeno secondo quanto affermato dalla società.
---