Addresses with 32+ ETH Hit an All-Time High - ATZCrypto
Ethereum addresses holding more than 32 ETH reached 129,729 today, reaching an all-time and therefore denoting a rising interest among network validators.  On-chain data shows an increasing number of wallet...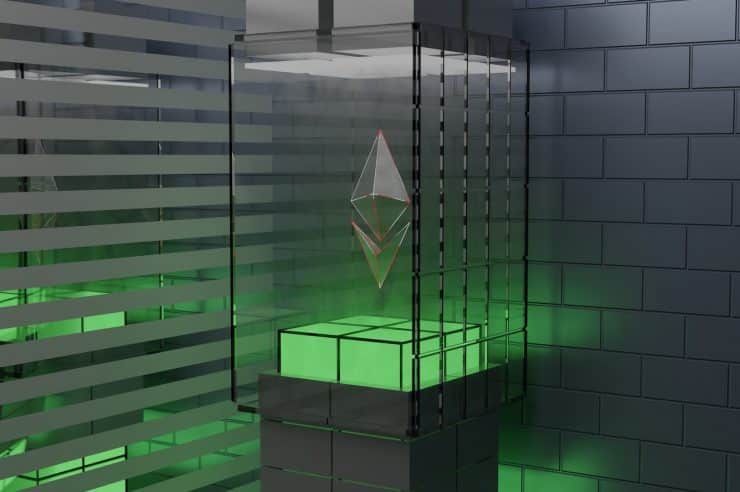 Ethereum addresses holding more than 32 ETH reached 129,729 today, reaching an all-time and therefore denoting a rising interest among network validators. 
On-chain data shows an increasing number of wallet addresses holding 32+  ETH after the blockchain switched from proof of work to proof of stake. The latest update placed a requirement for interested validators to stake a minimum of 32 Ethereum coins at Phase 0 of the upgrade. 
The chart below indicates the number of Ethereum addresses has been rising steadily since January 2018, until between January and July 2021 when the amount dropped and plateaued for 6 months.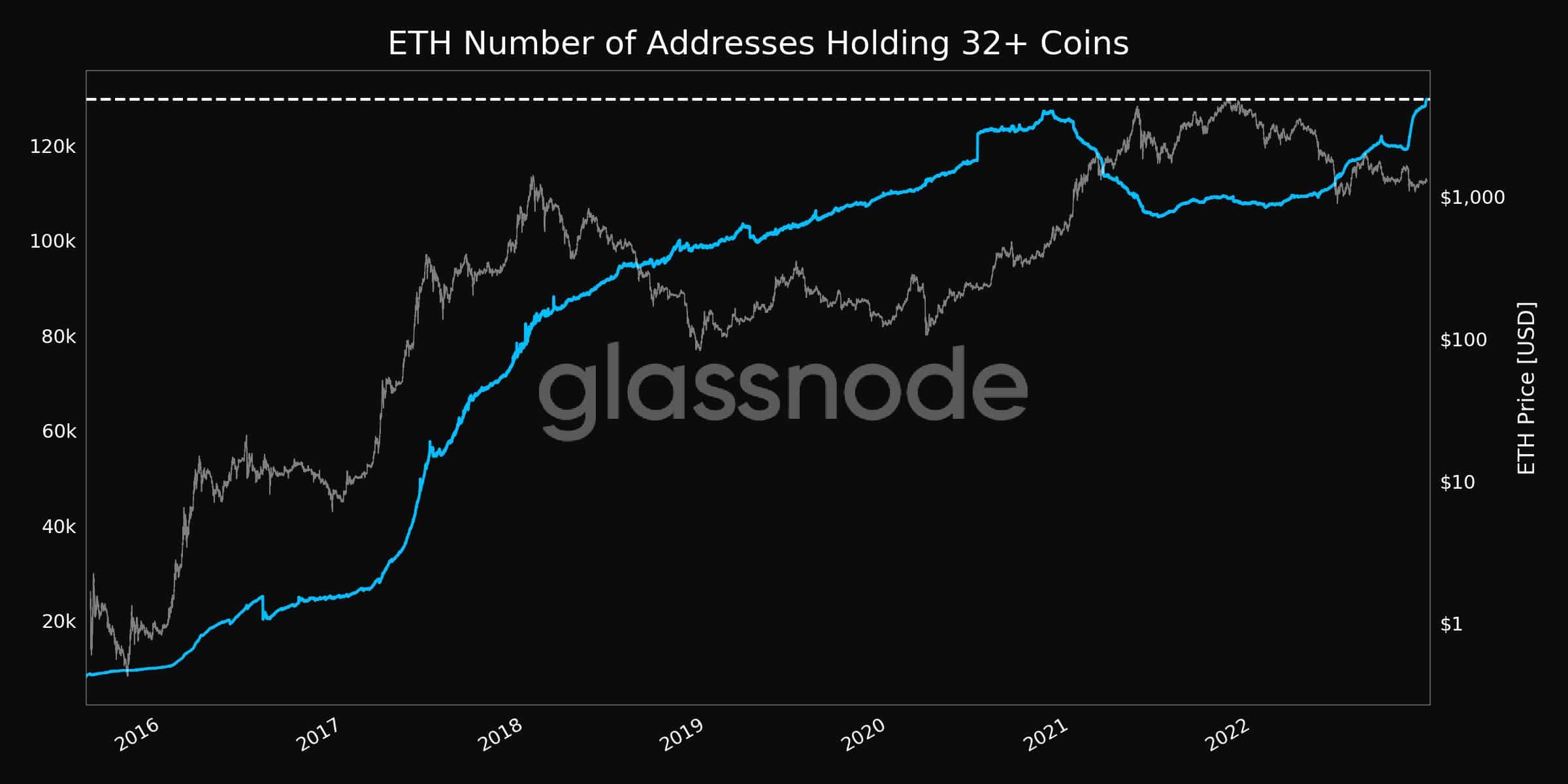 Source: Glassnode
Between July 2021 and December 2022, Ethereum node addresses have been increasing and have already hit an ATH of 129,707. The previous ATH for Ethereum validator addresses was recorded in July 2020, at approximately 125K addresses. At the apex of the above curve, the curve shows the amount is nearly the same as the current level.
Furthermore, another data set reveals the total value of ETH in the ETH 2.0 Deposit Contract has now surpassed the $20 billion mark.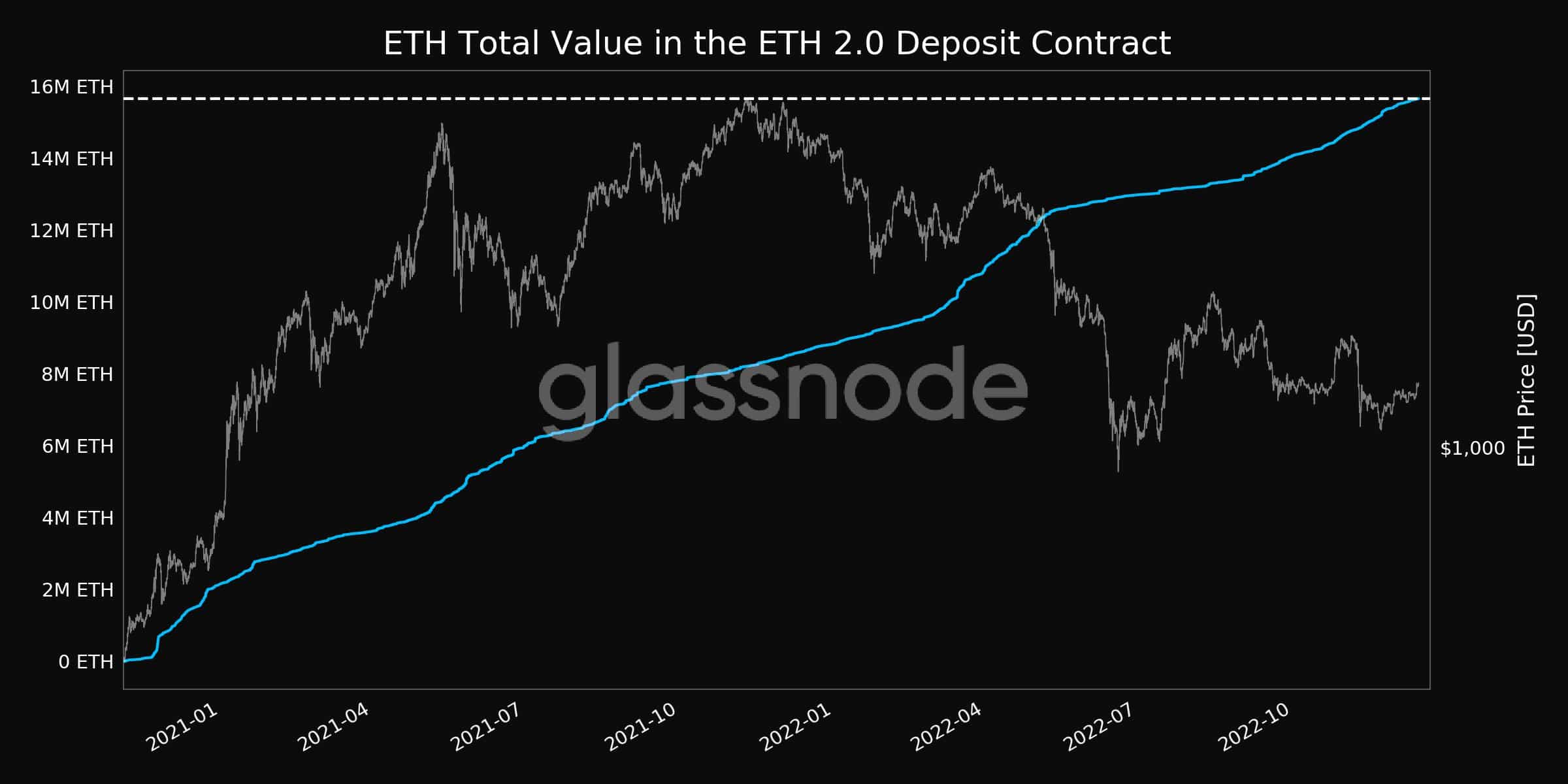 Source: Glassnode
This represents a huge milestone for the Ethereum network as it transitions to PoS. With the launch of ETH 2.0, the total value of ETH in the Deposit Contract could continue to increase as the network transitions to a more secure and efficient proof-of-stake consensus algorithm. The community is excited to see what the future holds for Ethereum and the ETH 2.0 Deposit Contract.
What does this mean for Ethereum?
A week before activating the merge, data by Nansen revealed Coinbase, Binance and Kraken accounted for nearly 64% of staked Ethereum. Additionally, centralized service providers controlled a significant percentage of active validators, nearly 4,653 nodes. Immediately after switching to PoS, just two addresses controlled 46.15% of all Ethereum nodes, Lido and Coinbase. 
In fact, Lido validated 188 of the first blocks after the merge, while Coinbase validated 105 blocks which represented 28.97% and 16.18% respectively. As a result, a debate took place on Twitter questioning the decentralization of Ethereum following the change from proof of work. The surging number of active validators reveals that the second-leading blockchain is still solid in upholding decentralization. 
Concern has by far been a result of PoS often perceived as a push toward centralization due to its reliance on wealthy stakeholders to secure the network. However, ETH supporters have argued that PoS can actually promote decentralization, as it encourages a more diverse set of stakeholders to participate in the network. 
This is because PoS does not require expensive hardware to run a validating node, making it easier for more people to get involved. Additionally, PoS allows stakeholders to stake their coins, rather than having to buy expensive hardware, making it more accessible to a wider range of people. Ultimately, this could make the consensus a better tool for bringing more decentralized networks than those secured by PoW.
The need for more scalability
Ethereum co-founder Vitalik Buterin did predict that the transition would not only reduce the network's energy consumption but also unlock more scalability. The founder believes  Ethereum 2.0 will provide a much more efficient blockchain platform for developers and users alike. His vision was for the network to process up to 100,000 transactions per second after the upgrade. This turned out to be a huge improvement compared to the present 15-30 transactions per second that Ethereum could process on proof-of-work.
Ethereum Addresses Holding 1k+ ETH just reached a 21-month high of 6,590
The number of Ethereum addresses holding more than 1,000 coins has just reached a 21-month high of 6,590. 
This is a significant increase from the 3,929 addresses that held more than 1,000 coins in August 2020. The current figure is the highest since September 2018, according to data from Glassnode. The increase in the number of addresses holding 1,000 or more coins is a sign of increasing investor confidence in the Ethereum network. It also suggests that more long-term investors are interested in the coin and are willing to hold larger amounts for longer periods of time. 
The blockchain is already set out towards an ambitious roadmap in the coming year after announcing to boost up transaction speeds and place them at par with centralized payment processors such as Visa and Mastercard. 
Conclusion
The Ethereum market is currently trying to consolidate more gains and break the $1300 level after it fell from $1350 over the last 5-days. Ethereum is now trading within a mid-range of $1264 and $1311. The market has been in this range for the past few days, with no major price movements in either direction. The current market sentiment is bearish, as traders wait for further clarity on the direction of the market. Looking ahead, Ethereum will likely continue to remain in its current range until a major price move is seen across the overall cryptocurrency market. 
About The Author
---