XRP, cardano en deze crypto stijgen hard terwijl bitcoin afkoelt
De grootste crypto munt op de markt koelt af in afwachting van de Federal Open Market Committee (FOMC) later vandaag. Dat lijkt wat ruimte te bieden aan een aantal grote altcoins om een kleine inhaalslag te maken, al volgen lang niet alle munten. Houd er rekening mee dat men verwacht dat het nog spannend kan worden vandaag. De totale marktkapitalisatie van crypto stijgt met 0,8% naar $1,122 biljoen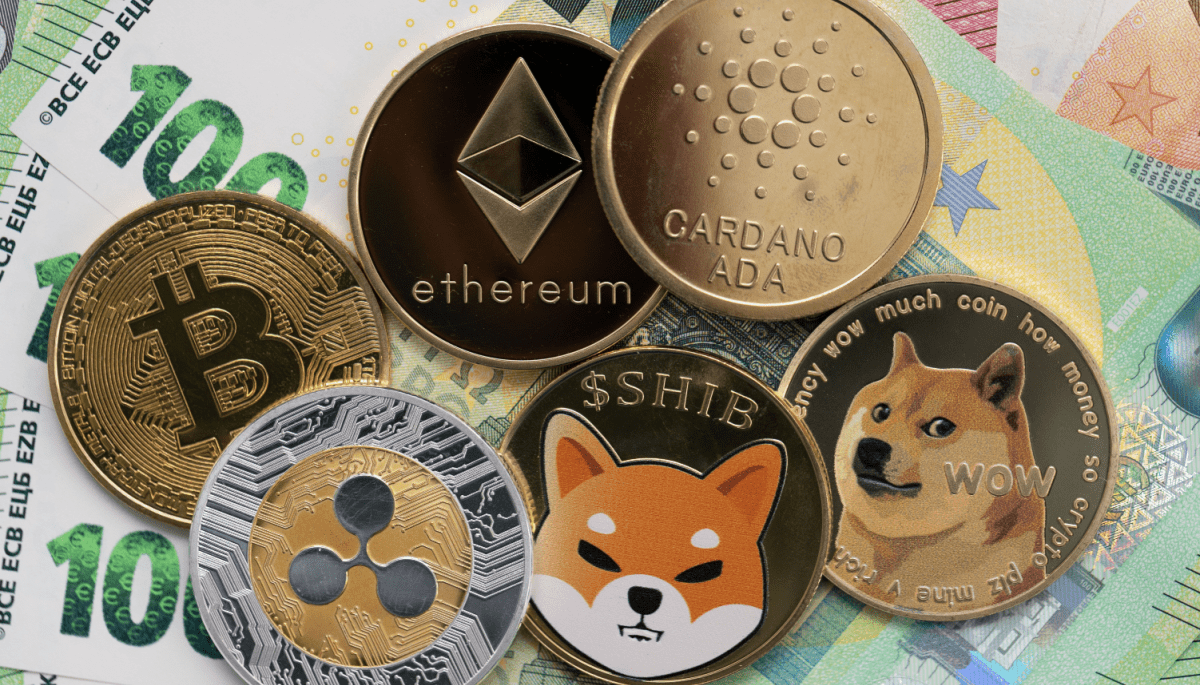 De grootste crypto munt op de markt koelt af in afwachting van de Federal Open Market Committee (FOMC) later vandaag. Dat lijkt wat ruimte te bieden aan een aantal grote altcoins om een kleine inhaalslag te maken, al volgen lang niet alle munten. Houd er rekening mee dat men verwacht dat het nog spannend kan worden vandaag. De totale marktkapitalisatie van crypto stijgt met 0,8% naar $1,122 biljoen
📈Market Overview#BTC price trades above $28K

The Top-10 are traded in green zone: $XRP +19.1%, $ADA +12.6%, $DOGE +5.81%.

Market cap: $1.26T (+3.32%)$BTC dominance: 43.50% (-1.37%)
Fear & Greed Index: 62 (Greed)

Full Report👉https://t.co/szHANkMWQN pic.twitter.com/bKUxjC7hAU

— CryptoRank Platform (@CryptoRank_io) March 22, 2023
Bitcoin houdt nog stand boven $28.000
Bitcoin (BTC) maakte gisteren een kleine dip, maar herstelde snel en tikte vervolgens $28.600 aan, de hoogste prijs sinds juni 2022. Sindsdien hangt bitcoin vast tussen $28.200 en $28.400, maar de markt verwacht dat het nog volatiel kan worden door FOMC vanavond.
1/ The Fed rate decision will be released in 10 hours.

The figure below shows the price change of $BTC before and after the announcement of the Fed rate decision in the past year.

And we noticed that some institutions transferred funds into the crypto market.👇 pic.twitter.com/4sGulbAVk0

— Lookonchain (@lookonchain) March 22, 2023
Ethereum terug boven $1.800
Ethereum (ETH) maakte gisterenmiddag een flinke sprong, maar kwam rond $1.820 iets te veel weerstand tegen. Ether houdt vooralsnog stand rond $1.800, al lijkt de koers vanochtend daar wat moeite mee te krijgen. ETH staat vandaag 2,1% in de plus.
There are 40M Ethereum wallets that hold less than 0.0005 ETH (~$0.90)

Effectively this is ~$11M (6242 ETH) out of circulation; Since it takes around ~0.0005 ETH for a swap at 20 gwei, it generally wouldn't be worth it for people to send it to an exchange and swap out pic.twitter.com/GHXya5EvUK

— Conor (@jconorgrogan) March 22, 2023
XRP koers schiet ervandoor
Ripple (XRP) stal gisteren de show, mogelijk door nieuws omtrent de rechtszaak. De koers zag eindelijk opleving en maakte een enorme stijging die rond $0,494 piekte. Tegen vanochtend zakt XRP terug naar $0,45, maar daarmee staat de koers alsnog ruim 16% in de plus vandaag.
1/ Despite the external pressure being applied by U.S. regulatory authorities, the $XRP Ledger (XRPL), supported by @Ripple, aims to provide a digital payment infra not just for individuals, but also for existing financial entities such as central banks.

XRPL Overview👇🧵 pic.twitter.com/Cv08YK2HrO

— Messari (@MessariCrypto) March 21, 2023
Cardano maakt ook forse stijging
Ook cardano (ADA) kon de afgelopen 24 uur flink aantrekken. De ADA koers tikte vanochtend vroeg een piek van $0,388 aan en houdt vooralsnog stand boven $0,37. Met een prijs van $0,375 staat ADA momenteel 10% in de plus.
ICYMI: Cardano's network is evolving and Dynamic P2P is now rolling out on mainnet. SPOs can now test automated connections of #Cardano nodes.

Find out more in this blog post: https://t.co/jbc8E15Hox

— Input Output (@InputOutputHK) March 21, 2023
Crypto top 10 kleurt groen, behalve binance coin
Dogecoin (DOGE) is vervolgens de hardste stijger uit de top 10 en staat met een prijs van $0,076 vandaag 4,4% in de plus. Polygon (MATIC) staat met $1,15 slechts 2% in de plus en solana (SOL) met $22,7 slechtst 1% in de plus. Binance coin (BNB) maakt vanochtend echter een forse duik naar $327 en staat daarmee 3% in de min.
Crypto top 100 hardste dalers en stijgers
Ook in de top 100 kleurt niet alles groen. Een aantal forse stijgers van de afgelopen tijd dalen vandaag. Zo zakt synthetix (SNX) met 3,3%, immutablex (IMX) met 3,7%, xdc network (XDC) met 6,7% en stacks (STX) met 7,1%.
Toch hebben we in de top 100 ook een aantal koersen in de plus, al stijgen ze niet zo hard als XRP. Frax share (FXS), singularitynet (AGIX) en bitcoin sv (BSV) staan bijna 6% in de plus.
Chainlink (LINK) stijgt met bijna 7%, stellar (XLM) staat al 8% in de plus en bitget token (BGB) al 9,5%. Algorand (ALGO) stijgt zelfs met 11% en kwam kort boiven $0,24 uit.
🚨 WATCH DRONE RACING 🚨

We're streaming the 2022-23 DRL @Algorand World Championship Season's Level 12 – Magic City

🎮 Fly like the pros in the DRL SIM: https://t.co/UVrbHi2lzK #drone #racing #sports https://t.co/Y7I6n4GVUj

— Drone Racing League (@DroneRaceLeague) March 21, 2023
Onze analisten maken gebruik van Bybit
De crypto-markt is volatiel en verandert voortdurend. Daarom maken onze analisten gebruik van Bybit om te profiteren van zowel stijgende als dalende koersen. Bovendien kun je via Bybit succesvolle handelaren volgen en van hun strategieën leren. Door je via deze link aan te melden, kun je profiteren van leuke prijzen en aanbiedingen, terwijl je tegelijkertijd ons platform steunt. Na een eerste storting van $100 ontvang je bijvoorbeeld al een cadeau van $20!
Disclaimer: Beleggen brengt risico's met zich mee. Onze analisten zijn geen financieel adviseurs. Raadpleeg altijd een adviseur bij het maken van financiële beslissingen. De informatie en tips die op deze website zijn verstrekt is gebaseerd op eigen inzichten en ervaringen van onze analisten.
---