Shiba Inu's Value Falls by 1.27% in the Last 24 Hours
Shiba Inu (SHIB) has dropped by 1.27% in the last 24 hours due to the cryptocurrency market's negative reaction to the possibility of another Fed rate hike.  Image source: coinmarketcap.com Rick Rieder, chief...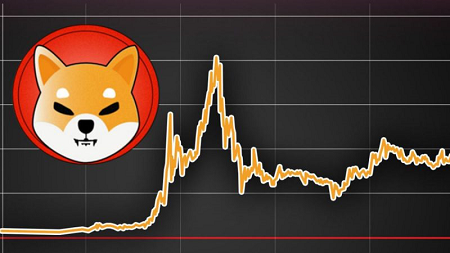 Shiba Inu (SHIB) has dropped by 1.27% in the last 24 hours due to the cryptocurrency market's negative reaction to the possibility of another Fed rate hike.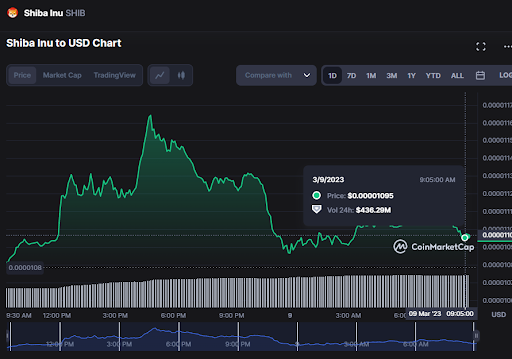 Rick Rieder, chief investment officer for global fixed income at BlackRock, reportedly stated that they believe the Federal Reserve will likely raise the Fed Funds rate to 6% and maintain it for a long time to slow the pace of the economy and bring inflation to about 2%.
Despite this decline, the current price stands at $0.00001095, which reflects a decrease of 9% over the previous week and 24% over the last 30 days. However, the price has increased by 35% year-to-date. 
Despite the current decline, there is a good chance that SHIB may rise later this week due to the upcoming public beta release of Shibarium, the Layer 2 network for Shiba Inu.
Attention #SHIBARMY 🚨

We're thrilled to announce that #SHIBARIUM Public Beta will be launching THIS WEEK! 🎉

Make sure you're following our official socials over the next few days as we reveal all the details on how to access the beta website. Hail Shib! #ShibariumBeta 🦴 pic.twitter.com/0fG3u3mY4S

— Shib (@Shibtoken) March 7, 2023
The Shibarium team has invested several months of development and testing into their Layer 2 solution, which aims to provide the SHIB community with numerous benefits, such as faster and more cost-effective transactions, increased scalability, and enhanced security.
Could Shibarium's Public Beta Launch Lead to a Surge in Shiba Inu Adoptions?
Shibarium is a Layer 2 blockchain currently under development and will be connected to the Shiba Inu coin. The blockchain is being built on the Ethereum network, which serves as the foundation for Shiba Inu and its entire ecosystem.
The creation of the Shibarium is a significant milestone in the Shiba Inu universe as it serves as a scaling solution. This allows Shiba Inu to operate seamlessly and expand its operations despite the growing demand for its systems.
The Shibarium network uses an upgraded method to permanently decrease the token supply of Shiba Inu coins, resulting in their "burning" and elimination. This approach addresses sustainability-related issues and enhances the value of the remaining coins for holders.
The new protocol is attracting developers and enthusiasts…
Quick Reminder

Many projects will be built on #SHIBARIUM Layer 2 Blockchain.

Just like #ETHEREUM, #BITCOIN , #SOLANA, #CARDANO, #MATIC , ETC.#Shibarium WILL BURN TRILLIONS OF $SHIB‼️🙏

This is a fact 💯👍#SHIB #SHIBA #ShibaInu #SHIBARMY #ShibaArmy #SHIBARMYSTRONG 💪 pic.twitter.com/LnDaBspGAC

— SHIB Bezos (@BezosCrypto) March 8, 2023
Several initiatives, including the Metaverse and NFTs, are utilizing the Shibarium protocol for their development. The Shiba Inu Metaverse project, in particular, is noteworthy as it presents a promising new use case for the SHIB token.
There are 100,595 land plots in the Shiba Inu-themed Metaverse. They are divided into four distinct districts: the Growth District, the Defense District, the Technology District, and the Currencies District. Individuals who possess virtual land plots in the Metaverse can rename them by paying a fee in SHIB tokens.
The increased appeal of this ecosystem to DeFi and other sectors of the crypto economy will result in more SHIB adoption and a rise in user numbers. Since the meme token has dropped significantly more than other tokens recently, this could be the perfect opportunity for SHIB to increase its demand.
Shiba developers released a guide in January 2023 explaining how Layer 2 will work, including information on gas, validator choice, and incentives. Lead developer Shytoshi Kusama explained in a blog post that this Layer 2 network would facilitate the expansion of Shibarium's presence in professional enterprises and help rekindle relationships with organizations they have engaged with in the past. Additionally, it will aid in identifying the appropriate validators.
On February 27, 2023, Kusama created Shibarium's new website, Twitter account, and intake form as part of an initiative to attract potential employees. The intake system aims to expand Shibarium's reach among professional companies and locate competent validators for its Layer 2 solution.
According to Kusama, there has been significant interest in collaborating with Shibarium on various projects since introducing the Shibarium intake form. LucieSHIB, the dedicated Twitter account of the Shiba Inu community, noted that the intake form for Shibarium has been submitted over 3,000 times.
Over 3000 intake forms have been submitted to @Shibariumtech

The first to receive a response was the content creator, new project owners and tokens.

Not all .. still in progress

There is no deadline – you can always apply.

— 𝐋𝐔𝐂𝐈𝐄 (@LucieSHIB) March 6, 2023
… and the market is responding.
Over the past few weeks, a considerable number of whales have been disposing of their SHIB holdings. On February 8, the top 500 ERC-20 addresses had a total of over $694 million worth of SHIB, but this figure decreased by 12.5% to $606 million. Despite this decrease, the whale's SHIB holdings remain significantly higher than the mid-January level of $84.5 million.
Since many whales purchased SHIB at relatively high prices, which should prevent them from selling at a loss, the coin may maintain its $0.0000105 support level.
Price Analysis for Cryptocurrencies Including BTC, ETH, BNB, XRP, and ADA
Bitcoin

is being traded at $21,749, with a trading volume increase of 6.40%. On February 24, the cryptocurrency's value dropped below an upward trendline, and on March 1, it was verified as a point of resistance. The cryptocurrency's failure to surpass the $22,800 mark indicates it is now being challenged at a resistance level.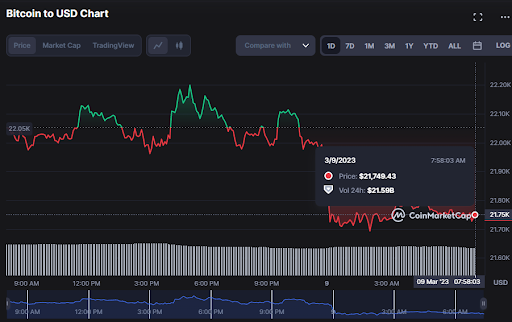 At the moment,

Ethereum

's trading value is $1551, and it has witnessed a 6.300% increase in trading volume. As Ethereum surges beyond a significant support level of $1550, a new hurdle of resistance has increased to $1600, possibly leading the way to a potential move toward the 50-day moving average of $1610.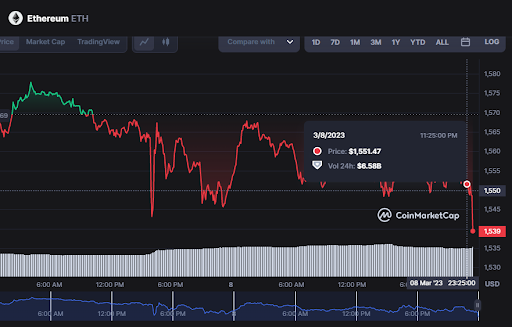 BNB

is currently trading at $289, has a 45.78 billion dollar market cap, and has seen an 11.51% spike in trading volume. According to

Coin360

, the price of BNB has changed by -0.9588 USD over the course of the last day, and 196,328,157 USD worth of BNB has been exchanged.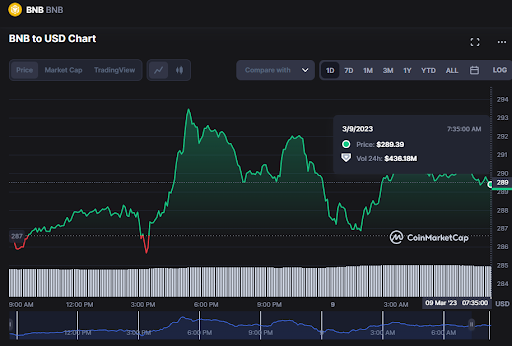 Ripple

(XRP) is currently trading at $0.3904, and boasts a trading volume of 24.86%. If the price falls below $0.36, XRP could test the support line of the descending channel pattern. However, buyers may try to prevent that by buying the token.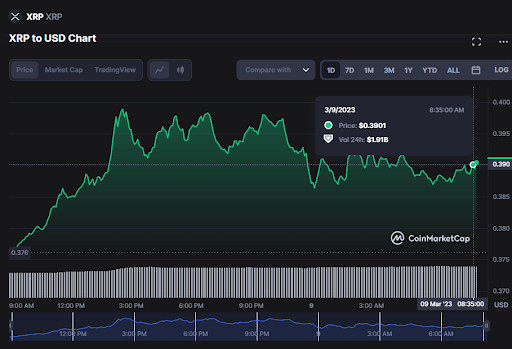 Cardano

(ADA) has an increased trading volume of 5.79%, currently trading at $0.317. The price of ADA has changed by -0.012005 USD over the past 24 hours, according to

Coin360

, and 135,280,989 USD worth of ADA has been exchanged on different exchanges.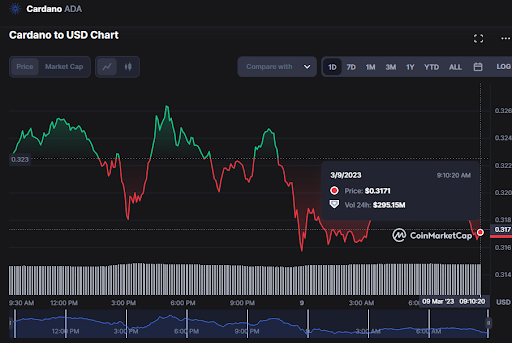 Disclaimer: This piece is intended solely for informational purposes and should not be considered trading or investment advice. Nothing herein should be construed as financial, legal, or tax advice. Trading or investing in cryptocurrencies carries a considerable risk of financial loss. Always conduct due diligence.
If you would like to read more market analysis like this, visit DeFi Planet and follow us on Twitter, LinkedIn, Facebook, Instagram and CoinMarketCap Community.
"Take control of your crypto portfolio with MARKETS PRO, DeFi Planet's suite of analytics tools."
Don't miss out!
Subscribe To Our Newsletter
Give it a try. You can unsubscribe at any time.
---