Januari was recordmaand voor crypto, deze koersen stegen het hardst
💡Tip: Probeer Nederlands grootste crypto beurs Bitvavo. Je tegoeden zijn tot €100.000 verzekerd en via deze link ontvang je €10 gratis & verhandel je de eerste €1.000 gratis 2022 was een extreem slecht jaar voor de crypto markt, maar de eerste maand van 2023 pakte gelijk heel anders uit. Januari 2023 was niet alleen de […]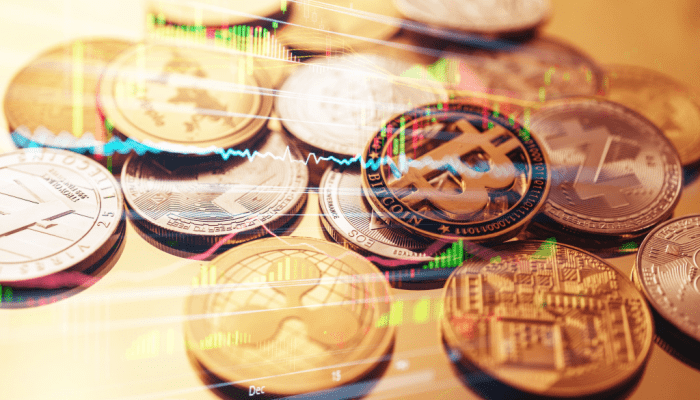 2022 was een extreem slecht jaar voor de crypto markt, maar de eerste maand van 2023 pakte gelijk heel anders uit. Januari 2023 was niet alleen de beste januari ooit, het was ook de beste maand sinds oktober 2021 voor de koersen. De totale marktkapitalisatie van crypto steeg in de afgelopen 31 dagen met ongeveer 26% van $800 miljard naar $1,008 biljoen. Welke cryptomunten presteerden het allersterkst afgelopen maand? Wij zetten ze voor je op een rijtje.
Bitcoin stijgt 39% in januari 2023
Bitcoin (BTC) tikte deze week bijna $24.000 aan, maar is sindsdien weer onder $23.000 gezakt. Op 1 januari lag de BTC prijs echter pas net vlak boven $16.000 en dat betekent dat de koers met maar liefst 39% is gestegen in januari.
January has been the best monthly returns for #Bitcoin since the October 2021 ATH.

43.2% at the top of the range, and 37.7% right now.

Not half bad for an asset that was supposed to be dead ☠️https://t.co/b5OMSn3JE4 pic.twitter.com/GRzBpfFSOZ

— _Checkɱate 🔑⚡🌋☢️🛢️ (@_Checkmatey_) January 31, 2023
Ethereum stijgt 32% in januari
Ethereum (ETH) presteerde iets minder sterk dan bitcoin afgelopen maand en dat is uitzonderlijk. Er wordt gespeculeerd de aankomende 'Shanghai'update, die opnames toestaat, beleggers terughoudend maakt. Desondanks steeg de ether koers afgelopend met 32% van onder de $1.200 naar $1.580.
Is anyone else as surprised by this chart as I am?

Thanks to @hildobby_ for this @DuneAnalytics query pic.twitter.com/jAc1RLHQpO

— Max Sherwood (@WholegrainMax) January 30, 2023
Cardano sterkste stijger crypto top 10
In de top 10 had ripple (XRP) afgelopen maand het zwaarst. Toch kon XRP met bijna 18% stijgen van $0,338 naar $0,395. Binance coin (BNB) steeg al met 27% in januari van $244 naar $310. Dogecoin (DOGE) stijgt vandaag naar $0,092, een stijging van 32% ten opzichte van de $0,069 begin deze maand.
Polygon (MATIC) groeide maar liefst 43% in januari, van $0,75 naar $1,09. Cardano (ADA) is de sterkste stijger uit de top 10 in januari 2023. De ADA koers komt momenteel rond $0,37 en stond begin deze maand nog onder $0,25, een stijging van ruim 52%
*1,000,000 to 100,000,000

wen edit button? 😅

— Ali (@ali_charts) January 30, 2023
Solana stijgt 140% in januari
Toch hebben we vlak buiten de top 10 gelijk nog een hardere stijger: solana (SOL). De markt vreesde een maand geleden dat het mogelijk voorbij was voor deze crypto toen de koers onder de $10 zakte. Echter komt SOL inmiddels op $24 uit, een stijging van maar liefst 140%
Fact: The price of $SOL has increased by over 150% since the beginning of 2023.

It seems that the opportunity to see SOL below $10 may no longer be available.@solana #Solana pic.twitter.com/2aemMv7d9e

— Solana Daily (@solana_daily) January 30, 2023
Aptos pakt 375%, hardste stijger crypto top 100
We hebben in de top 100 nog meer harde stijgers en dit was de absolute top: Fantom (FTM) staat ook 140% in de plus. Frax share (FXS) steeg zelfs met 145%. Decentraland (MANA) staat al 148% in de plus.
Threshold stijgt momenteel hard en komt daarmee al op 220% in januari uit. Gala (GALA) staat met 221% daar net boven, maar aptos (APT) was de grote winnaar van januari in de top 100. De APT koers is sinds de piek van $19,9 aan het dalen, maar staat met een prijs van $16,5 alsnog 375% in de plus ten opzichte van 1 januari.
Aptos' $APT token hit all time highs above $19.

In our latest Data Debrief, the research team explores APT's order book structure on Binance and Coinbase to better understand the rally.

Full analysis 👇https://t.co/b6DjhJtW1A

— Kaiko (@KaikoData) January 30, 2023
Everscale stijgt bijna 600% in januari
Dan nemen we tot slot nog even een korte blik buiten de top 100. Daar vinden we namelijk everscale (EVER). EVER staat vandaag meer dan 80% in de plus en komt daarmee uit op $0,177. Everscale is met ongeveer 590% gestegen in januari 2023.
EVER tops @CoinMarketCap gainers list 📈

This year has started off with a strong surge in the crypto market, and we're proud to say that Everscale has been in the driving seat in this rally 🚀 pic.twitter.com/oPxIpQYWmN

— Everscale (@Everscale_net) January 30, 2023
Houd er echter rekening mee dat het nog zeer spannend kan worden deze week op de financiële markten. We hebben namelijk een grote reeks macro-economische gebeurtenissen die een grote invloed kunnen hebben op de richting van de koersen.
We'll see rate decision announcements from the US Fed, BOE and ECB all this week! pic.twitter.com/LsAN5Km76M

— Rahul (@rhemrajani9) January 31, 2023
Handel samen met Crypto Insiders
Zoek jij hulp met handelen? Heb je vragen en wil je technische analyses voor een groot aantal cryptomunten direct ontvangen? Word lid en probeer een Premium-lidmaatschap 30 dagen gratis. Hier delen onze analisten 24/7 hun marktkennis en de nieuwste analyses. Hier kan je ook direct in contact komen met verschillende marktexperts en crypto-enthousiastelingen die klaar staan om jou te helpen!
Disclaimer: Beleggen brengt risico's met zich mee. Onze analisten zijn geen financieel adviseurs. Raadpleeg altijd een adviseur bij het maken van financiële beslissingen. De informatie en tips die op deze website zijn verstrekt is gebaseerd op eigen inzichten en ervaringen van onze analisten en dienen alleen voor educatieve doeleinden.
---