Cardano: Will ADA Moonshot Turn You Into Crypto Millionaire or Leave You Daydreaming about Lambo Rentals?
Join Our Telegram channel to stay up to date on breaking news coverageCardano the native token to the world's eighth-largest crypto boasting $12.8 billion in market capitalization, tumbled on Wednesday...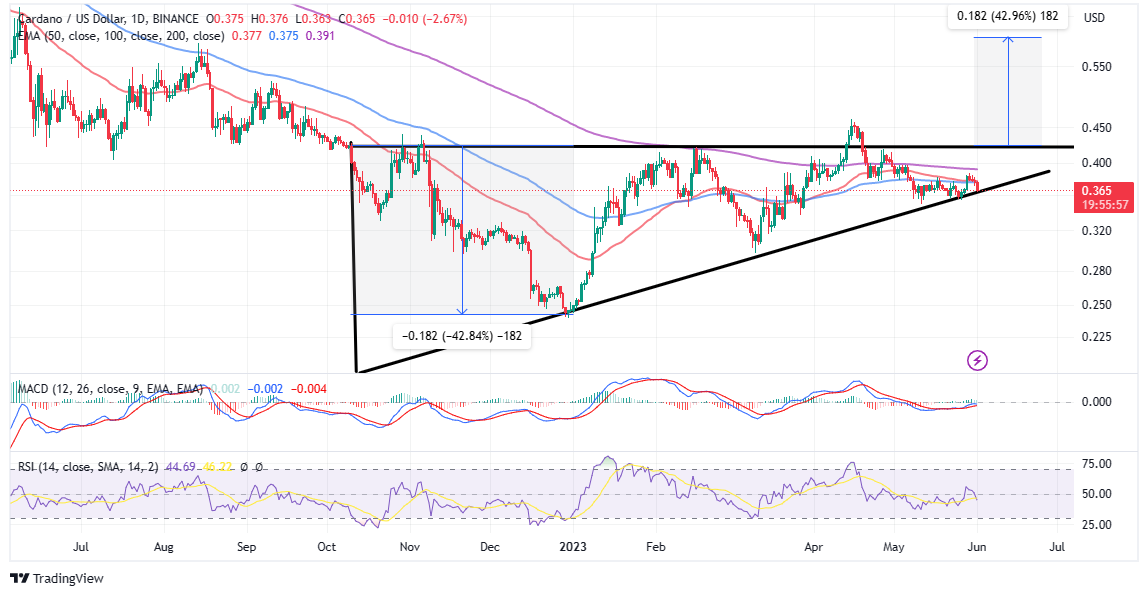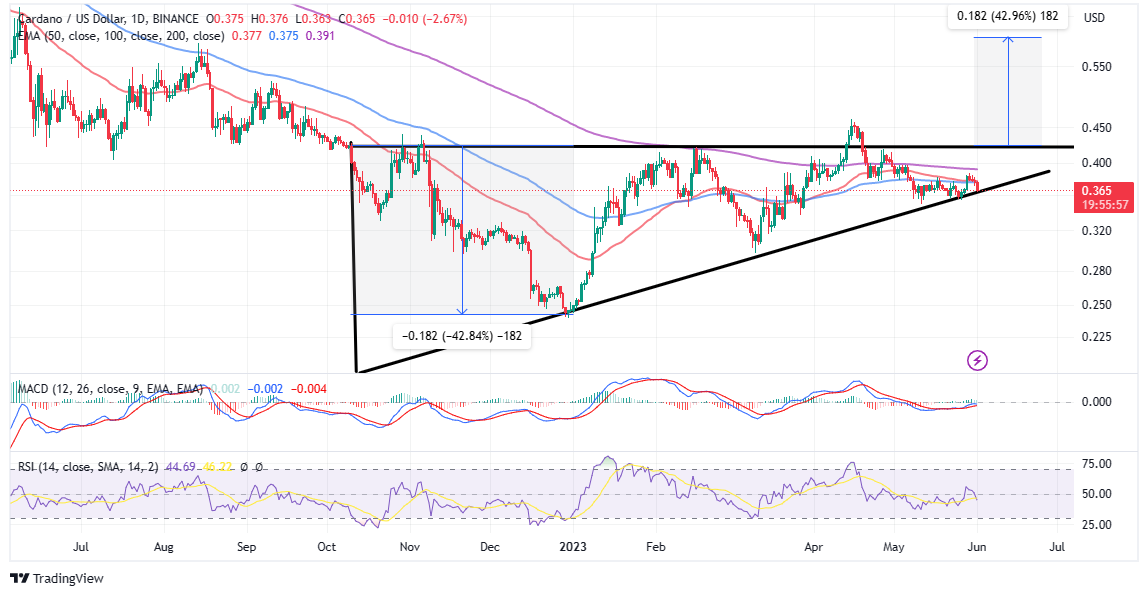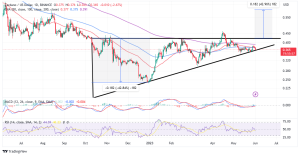 Join Our Telegram channel to stay up to date on breaking news coverage
Cardano the native token to the world's eighth-largest crypto boasting $12.8 billion in market capitalization, tumbled on Wednesday evening along with Bitcoin (BTC), down 3.2%, and Ethereum (ETH), down 2.2% in 24 hours.
In our previous analysis, Cardano price exhibited a bullish outlook, but one that needed the smart contracts token to flip $0.38 into support. However, with losses escalating to 3.7% in the last 24 hours, Cardano is virtually hanging on the cliff's edge, risking a sharp drop to $0.32 and $0.28 price levels, respectively.
Cardano Price Fails To Flip Support As ADA Risks Further Declines
The founder of Cardano Charles Hoskinson's surprise AMA earlier this week was a breath of fresh air for the network, trading 88.15% from its all-time high of $3.09 in September 2021, according to CoinGecko.
As reported, Hoskinson reinforced his vision for the ecosystem and how he intends for Cardano to grow as a decentralized protocol.
While the AMA session allowed ADA to reclaim the ground above the confluence level at $0.38 formed by the 50-day Exponential Moving Average (EMA) (in red) and the 100-day EMA (in blue), it was insufficient, resulting in a sudden trend reversal.
If Cardano stepped above the next hurdle highlighted by the 200-day EMA (in purple), bulls would have had a chance to attack the ascending triangle's horizontal (x-axis) resistance at $0.42.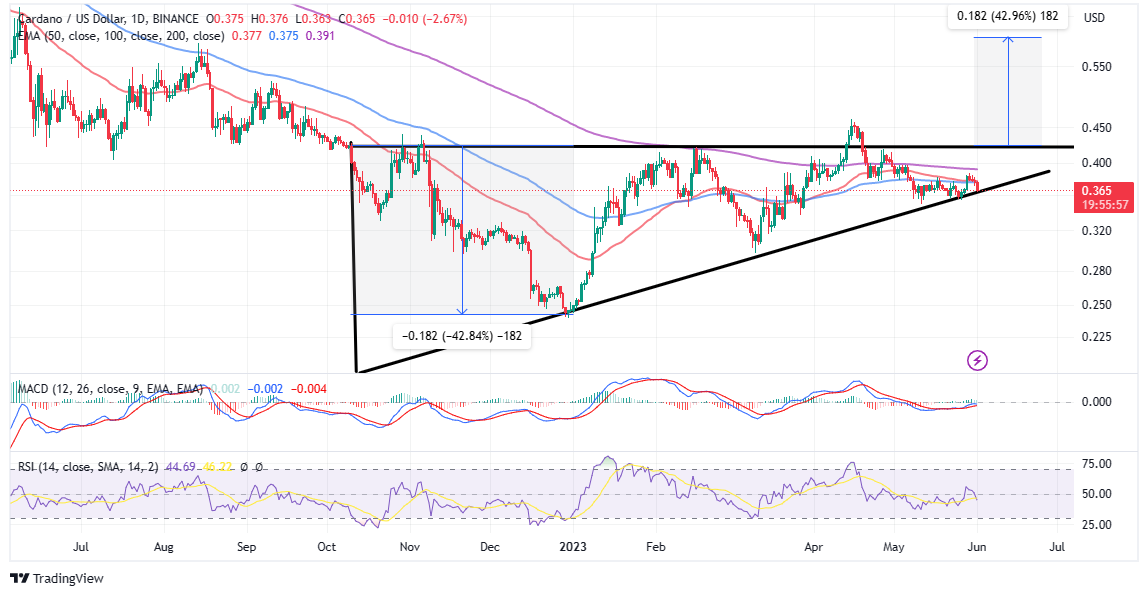 With Cardano's technical outlook changing drastically, declines to lower price levels at $0.32 and $0.28 are becoming apparent unless Bitcoin begins to recoup the losses.
As for ADA, holding to support at $0.38, which coincides with the ascending trendline, or the hypotenuse of the triangle pattern, is of utmost importance to an immediate trend reversal.
The Relative Strength Index (RSI) shows the odds flipping to favor the sellers who are ready to capitalize on ADA's failure to flip $0.38 into higher support.
A sustained break below the triangle support at $0.36 might reinforce the bearish outlook, leaving Cardano price with no choice but to settle for liquidity at $0.32 or $0.28.
If declines are arrested as soon as possible before they weaken the buyer congestion at $0.36, the probability of upholding the buy signal from the Moving Average Convergence Divergence (MACD) would be higher.
This means that Cardano will still be confined within the ascending triangle pattern with a 42% breakout target of $0.6.
Traders look for a breakout above the resistance line with increasing volume, which signals that buyers have overcome sellers and are pushing the price higher.
The breakout point also serves as an entry point for a long trade, with a stop loss placed below the support line.
Note that the profit target (42%) is calculated by adding the height of the triangle to the breakout point, as shown on the ADA/USD daily chart.
An ascending triangle can offer a profitable trading opportunity if the pattern is confirmed and followed by a strong price movement.
Cardano Steadies Network Growth Despite Weak Market Structure
Although ADA has lost 5% of its value in 30 days, fundamentals within the network have been growing steadily. Decentralized exchanges (DEXs) within the ecosystem have been posting spikes in volume, based on data from analytics platform DefiLlama.
Cardano's DEXs are attracting more users and funds as the platform expands its DeFi offerings. Minswap, the most popular DEX on Cardano, saw its trading volume soar by more than 11% in the past week.
There is also a noticeable increase in the protocol's total value locked (TVL) to $172 million. TVL is a measure of how much money is staked on the smart contract.
Minswap's TVL now stands at nearly $63 million, making it the 16th largest DeFi platform in the market.
Other Cardano-based DEXes, such as Indigo and WingRiders, have also registered positive growth in their TVLs, reaching $35 million and $15 million, respectively. These numbers reflect the growing demand and confidence in Cardano's DeFi ecosystem.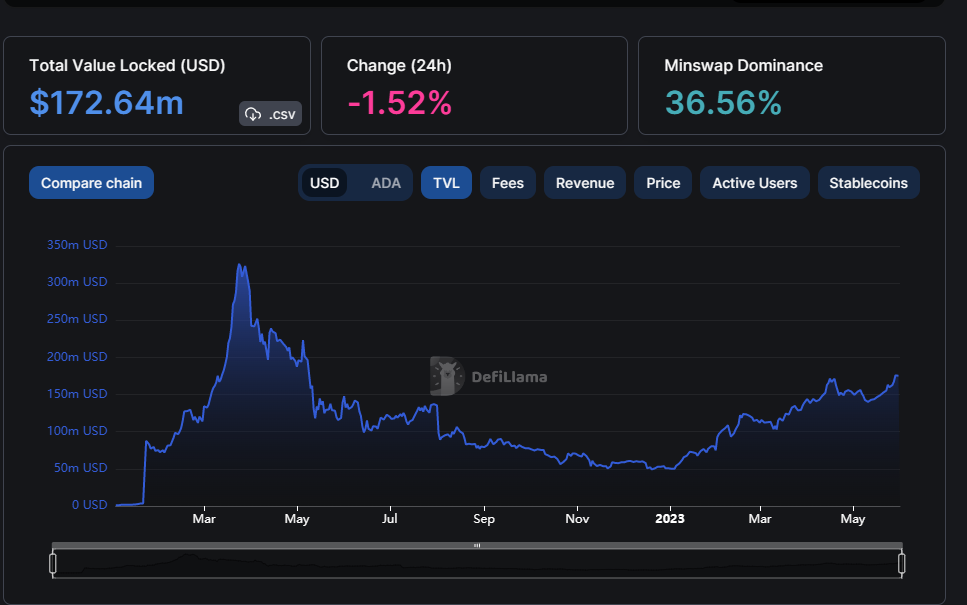 If this growth in fundamentals continues, we are likely to see bulls regain control of Cardano, while keeping in mind the potential breakout to $0.60. Realize that such a bullish move is significant to spread FOMO among investors who would be championing a climb a massive rally eyeing the all-time high of $3.09.
yPredict – Best Cardano Alternative
The bullish outlook in Cardano requires oodles of market structure conditions to turn investors into instant millionaires, including the performance of Bitcoin.
However, investors have a higher chance of transforming themselves into crypto millionaires by buying low-cap meme tokens like Pepe, which exploded in April.
InsideBitcoins.com reviews the best meme tokens for investors to consider, some of which are still in their presale stages. This means that you get a chance to buy at discounted prices before the tokens launch on exchanges.
One of these incredible tokens is yPredict, which can still be bought in the ongoing presale.
The creators of YPRED, the token powering the AI-based crypto price prediction network, are looking forward to listing the token on exchanges in Q3 – Q4 2023.
In brief, yPredict is an AI-powered trading and market intelligence platform that mainly focuses on helping investors block out the noise and see the bigger picture vital to making the desired profits.
📢 Discover yPredict: The free and transparent price prediction system revolutionizing the market! 🔮 Unlock institutional-grade crypto predictions, and explore AI-powered features like signals, breakouts, pattern recognition, and sentiment analysis. 🚀 Join us on this exciting… pic.twitter.com/o2zqwUwdYi

— yPredict.ai (@yPredict_ai) May 31, 2023
yPredict aims to enhance its technological capabilities and deliver innovative AI solutions to its clients.
Meanwhile, the team is introducing yPredict (YPRED) in the market via a viral presale that has raised $1.96 million in a matter of weeks.
Investors are buying YPRED for $0.09 in stage six but this price will increase to $0.10 in the next round, while the token is expected to list on exchanges at $0.12.
Related Articles:
Wall Street Memes - Next Big Crypto
Early Access Presale Live Now
Established Community of Stocks & Crypto Traders
Featured on BeInCrypto, Bitcoinist, Yahoo Finance
Rated Best Crypto to Buy Now In Meme Coin Sector
Team Behind OpenSea NFT Collection - Wall St Bulls
Tweets Replied to by Elon Musk
Join Our Telegram channel to stay up to date on breaking news coverage

Editor
John is a renowned crypto analyst and journalist, providing expert insights into both broad and focused aspects of the digital asset market. As a steadfast reporter, he keeps his audience updated with the latest news in the crypto sphere, delving into topics such as price trends, on-chain data analytics, Non-Fungible Tokens (NFTs), Decentralized Finance (DeFi), Centralized Finance (CeFi), and the…