Cardano Price Presents A Buy Signal For Retail Traders With 10% Gains In Sight - InsideBitcoins.com
Join Our Telegram channel to stay up to date on breaking news coverageCardano (ADA) price has been on a load-shedding course since the onset of the month, falling in tandem with the broader market amid...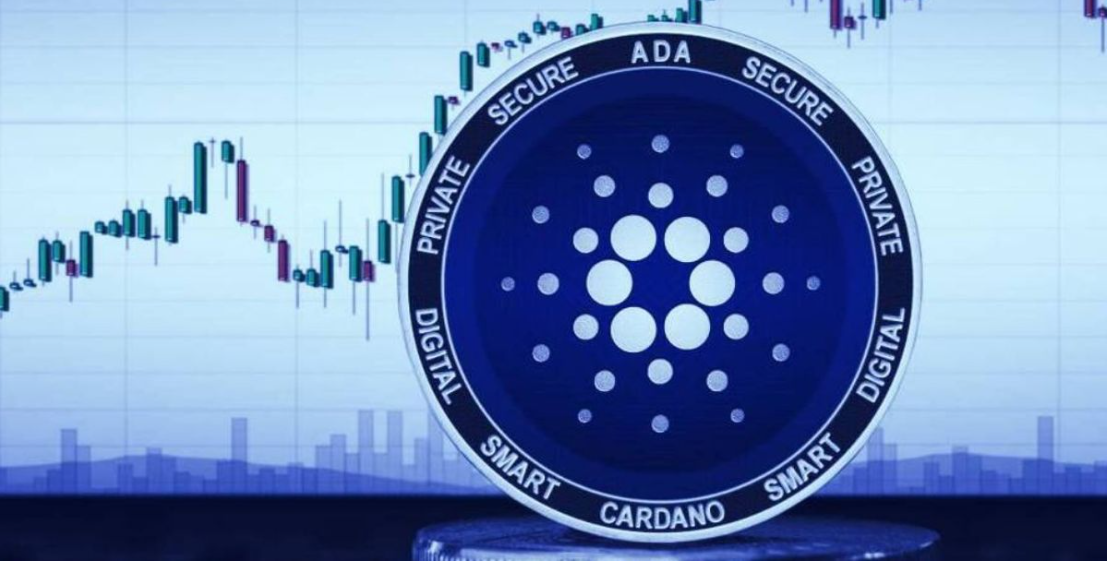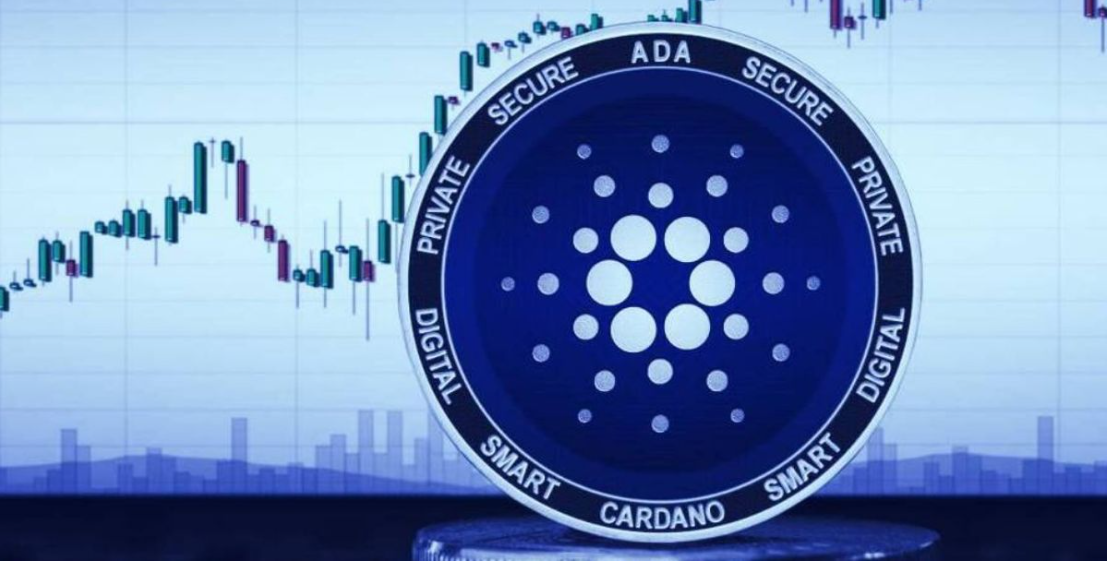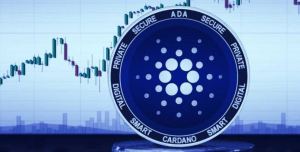 Join Our Telegram channel to stay up to date on breaking news coverage
Cardano (ADA) price has been on a load-shedding course since the onset of the month, falling in tandem with the broader market amid massive bearish pressure. Although the long-term outlook for ADA is still murky, retail traders may get an opportunity to accumulate the altcoin.
At the time of writing, Cardano price is $0.367, a daily drop of almost 2%. The downtrend comes amid the Bitcoin (BTC) price dominance, which remains southbound with a 1% decline over the last 24 hours. Nevertheless, Due to the dearth of bullish momentum, there seems to be no recovery rally in sight. However, there seems to be a slow yet steady plan for a bounce in Bitcoin price, which, if confirmed, could trigger a mini-rally for altcoins, Cardano included.
Cardano Records Big Capital Inflows Amid Cryptocurrency Market Turbulence
A recent weekly report by CoinShares concerning the flow of funds into digital asset investment products showed a steady trend of outflows across four consecutive weeks. The outflows totaled $54 million, which contributed to a total figure of $200 million since the year started.
Interestingly, inflows on several other cryptocurrencies were also observed off the back of the outflows, pointing to a growing willingness among investors to explore new opportunities. It is worth mentioning that Cardano distinguished itself in performance among the rest of the coins.
Based on CoinShares' interpretation, investment products specific to Cardano recorded an outstanding influx of $500,000 over the past week. More specifically, the investment uptick is significant given that it represents the highest flow of funds into ADA over the last month. This brings the total inflow to $4 million since the beginning of 2023.
Conversely, Bitcoin experienced notable outflows totaling $38 million, which accounts for a striking 80% of the total withdrawal from the market over the same period. The outflows and the drop in Short Bitcoin positions underscore the ongoing investor sentiment that has primarily revolved around BTC.
In general, the CoinShares report points to a trend of investors choosing to diversify their portfolios by venturing into alternative cryptos.
Nevertheless, as digital asset investment products wholesomely record massive outflows, Cardano has managed to cajole investors, which explains the commendable inflows. Meanwhile, Bitcoin dominance in terms of outflows suggests that investor attention is still focused on this flagship cryptocurrency.
Cardano price readies for a 10% move
Cardano price dropped by around 10% from $0.385 to $0.342 between May 7 and May 11 as whales dumped ADA. This was is shown in Santiment's Supply Distribution metric. As shown below, the number of addresses holding between 1 million to 10 million tokens had dropped from 2,479 to 2,431 in the last week.
Similarly, addresses holding between 10 million to 100 million tokens had also declined from 426 to 405 in the last week, as indicated above.
Nevertheless, things seem to be changing as the numbers are improving to favor the upside. For starters, Cardano price has increased 6% between May 11 and May 16 to the current market value of $0.367 as whales continue accumulating ADA.
This is shown in Santiment's Supply Distribution metric above, indicating that the number of addresses holding between 1 million to 10 million tokens had increased from 2,422 to 2,442 in the last week. In the same way, addresses holding between 10 million to 100 million tokens had also increased from 395 to 402 in the last week, as indicated in the chart above.
This trend shows that whales are also gaining interest in the performance of Cardano price in the near future and are taking long positions.
Cardano Price Ready To Make A Move
Accordingly, an increase in buying pressure above the current level could see Cardano price rise to confront the $0.382 resistance level and, in the highly bullish case, extend a neck up to tag the $0.396 resistance level. This would constitute a 10% upswing from the current position.
The Relative Strength Index (RSI) position could slide a little higher to breach the mean level and cross to the positive zone. The Awesome Oscillator (AO) was also moving towards positive territory, indicating an increasing bullish momentum as it was very close to seeing a reset at the zero line. Both of these indicators favor the upside.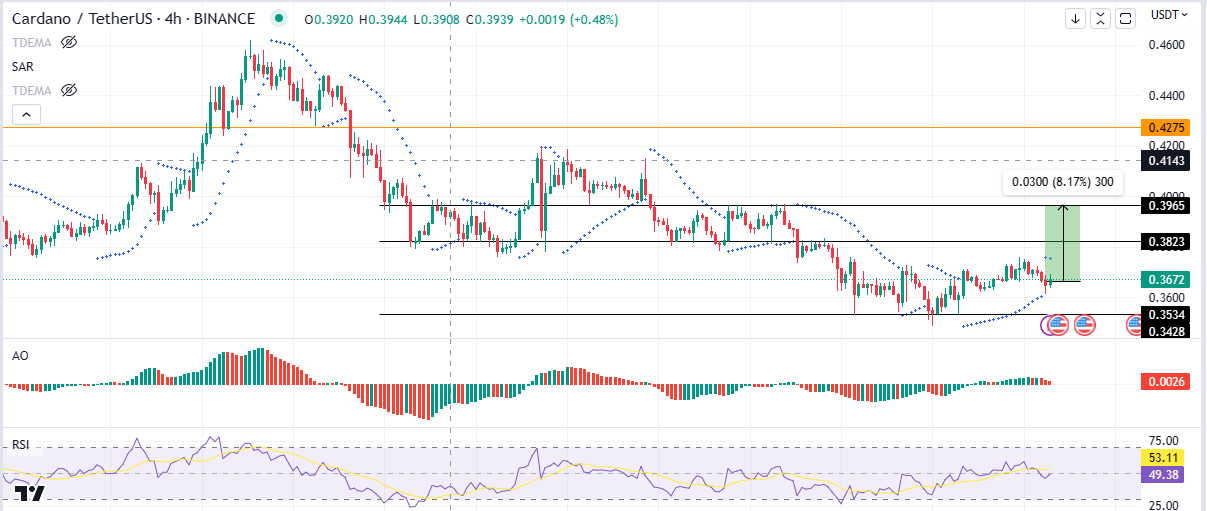 While the big picture for Cardano price appears optimistic, a sudden increase in selling pressure could push ADA to flip the $0.353 support level into a hurdle and invite sustained selling. A possible reason for such a turn of events would be day traders that have broken even after the May 16 uptick deciding to book early profits.
Such a move would invalidate the bullish thesis for the sensational "Ethereum-killer," kickstarting a prolonged downtrend to collect liquidity below that level.
After flipping above the price, the Parabolic SAR added credence to the bearish thesis. For as long as this indicator tracks Cardano price from above, the bearish headwinds would pursue.
While Cardano price coils up for a 10% upswing, consider AI, the ticker for the AiDoge ecosystem. The project is at the apex of the meme coin frenzy as cryptocurrency buyers contend to identify the next Pepe coin, Wojak, LADYS, or $SPONGE.
While other #Memecoins struggle to find utility, #AiDoge steps up its game! 👑

With a dynamic ecosystem and features like voting, rewards, and staking, AiDoge reigns supreme 🐶😎

Secure your bag of $AI before it's too late! 🤖🔥💎
👉 https://t.co/5j5tt4smcs#Presale #Crypto pic.twitter.com/kE86jtdMgy

— aidogecrypto (@aidogecrypto) May 16, 2023
ADA Alternatives
The AiDoge platform offers users an AI-driven meme generation experience, which has adopted the ever-changing cryptocurrency world. It leverages advanced AI technology to create relevant memes determined by text prompts that the user provides. Among the main elements include:
AI-powered meme generator
Text-based prompts
AI tokens for purchasing credits.
The meme generator employs cutting-edge AI algorithms to design contextually relevant memes tested on multiple meme datasets and crypto news, ensuring top-notch and up-to-date memes.
Further, the AiDoge ecosystem boasts a business model unrivaled by any other crypto, distinguished with clear utility and a readily understandable and attractive plan for growth. It is imperative to note that AiDoge (AI) is a separate project from ArbDoge (AIDOGE).
The Web3 app has a provision where users can easily develop memes with as little a requirement as a simple idea. The app then scours the internet for the relevant images and text and then offers a finished product so the creator has his output on time. This enables creators to deliver memes for use even in real-time conversations.
The AiDoge project is making headlines with a rampaging presale. The ecosystem has accumulated over $8.07 million in presale sales based on the latest data, marking an end to stage 11.
Another milestone smashed, #AiDogeArmy! 🔥

Stage 11 has sold out and we have now raised over $8 million! 🤯

The #Presale is selling out fast! ⚡️💨

Don't miss your chance to grab $AI before the next price increase!📈🚀

👉 https://t.co/5j5tt4smcs#Memecoin $PEPE $FLOKI $ELON pic.twitter.com/oOuMysO9ux

— aidogecrypto (@aidogecrypto) May 16, 2023
This adds to the series of milestones the project continues to achieve, including the recent $1 million in presales raised in just under 24 hours. This was before a sprint across the remainder of the week to hit breach the $7.5 million mark and almost the presale total amount within that week.
With these remarkable numbers, the AI-generated meme app proves to be among the hottest items on the crypto market at the moment.
Read More:
AiDoge - New Meme to Earn Crypto

Earn Crypto For Internet Memes
First Presale Stage Open Now, CertiK Audited
Generate Memes with AI Text Prompts
Staking Rewards, Voting, Creator Benefits

Join Our Telegram channel to stay up to date on breaking news coverage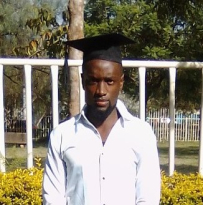 Author
Lockridge is a believer in the transformative power of cryptocurrencies and the blockchain industry. He has always had a knack for crypto and helping traders and investors benefit from expert technical price analysis while keeping them abreast of all market and industry developments. He aims to decouple the industry from its perceived complexities and strives to be a voice of…
---