Cardano Price Prediction: For 20% Gains, Should You Buy ADA At This Level? - InsideBitcoins.com
Join Our Telegram channel to stay up to date on breaking news coverageCardano (ADA) price attempted a recovery on April 22 after a bearish takeover in ADA on April 16. However, the move proved premature as...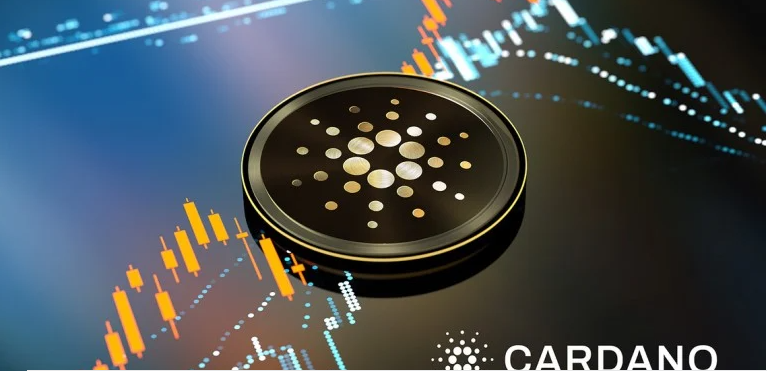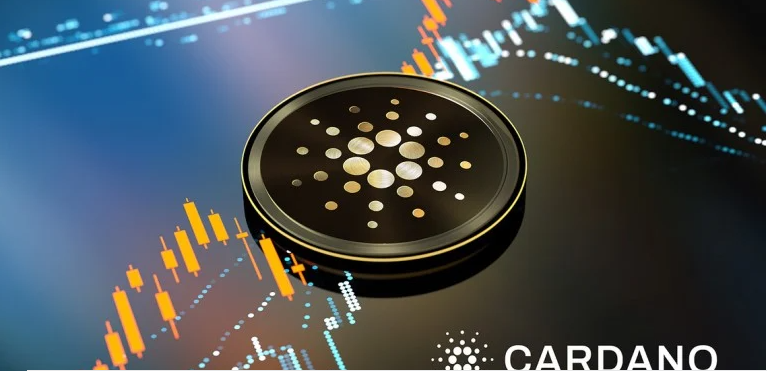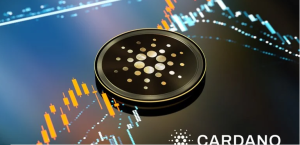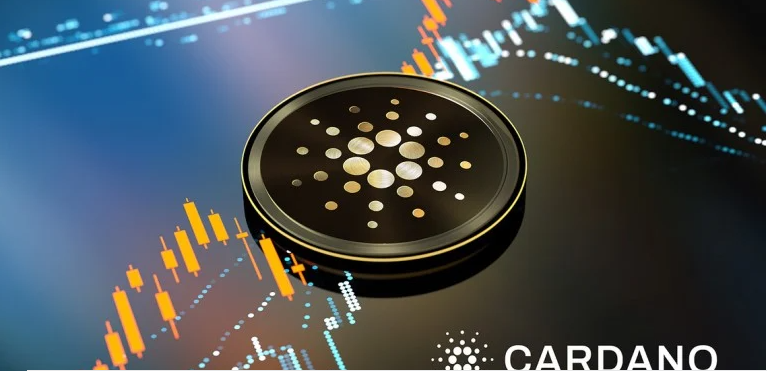 Join Our Telegram channel to stay up to date on breaking news coverage
Cardano (ADA) price attempted a recovery on April 22 after a bearish takeover in ADA on April 16. However, the move proved premature as the altcoin lost value for the next three consecutive days. At the time of writing, ADA is auctioning for $0.38 after losing almost 2% in the last 24 hours. There was little activity in the Cardano market, evidenced by a 24-hour trading volume increase of an abysmal 2%. With these statistics, it appears traders have set their buy stops.
Notably, "a buy stop order is an order to purchase a security only once the price of the security reaches the specified stop price. The stop price is entered at a strike, or level, set above the current market price. It is a strategy traders use to profit from an upward movement in an asset's price by placing an order in advance.
ADA Whales' Busy Weekend Prepares Cardano Price For Massive Gains
Cardano whales had an eventful weekend leading up to the week, with key metrics showing that the altcoin is firing up. This came amid skyrocketing transactions taking place on the network. It happened that active ADA whales took charge specifically because of their "big hands" in the market, contributing to the spike in large transactions.
In a Twitter post, a renowned analyst in the crypto arena highlighted whale movements on the Cardano network. With his post, the analyst disclosed how whale transactions had soared recently.
Large $ADA transactions are on the rise, suggesting that #Cardano network activity is heating up as institutional players and whales make their moves.

This is a bullish sign supporting the #ADA uptrend! pic.twitter.com/Z6zOiDgdkX

— Ali (@ali_charts) April 15, 2023
Based on the analyst, the number of large transactions on the network breached the 3,000 mark last week. This was around the time when the number of ADA transactions above $100,000 rose on the Cardano network.

While a slight plunge was witnessed shortly after, it pulled back after that as transactions skyrocketed to new levels in April. Specifically, large transactions reached 4,000 on April 1 courtesy of the whales' effort to survive the turbulent times. Towards April 11, the transactions were nearing 5,000. Now they are almost crossing the said levels.
As the altcoin consolidates sideways, it appears a pullback is brewing. This becks the question of whether to buy ADA at the current level to enjoy the projected gains before the rally begins.
Cardano Price Coils Up For A 20% Upswing, Buy Now?
Cardano (ADA) price started a massive uptrend around March 10, rising around 55% to a high of $0.45 on April 15. However, the price was rejected by the $0.46 resistance level, fueling a 15% downswing to the price of $0.38 as of the time of this writing.
An increase in buying pressure from this level could set the tone for Cardano price to soar, potentially tagging the immediate hurdle at $0.42. Beyond this level, ADA could reach high and tag the next roadblock at $0.46, thereby reclaiming the mid-April highs. Such a move would denote a 20% upswing.
Based on the one-day chart below, Cardano price appears to have found support above the confluence between the 50- and 100-day Simple Moving Averages (SMAs) at around $0.37. Notably, this was a strong support, providing a possible entry point for sidelined investors looking to join the bandwagon before the price rally.
Besides the confluence, the 200-day SMA at $0.35 also provided an entry point as it presents as a buyer congestion zone where more bulls could buy ADA.
The favorable position of the Moving Average Convergence Divergence above the mean line supports the bullish outlook for Cardano price. This suggests that bulls are leading the ADA market.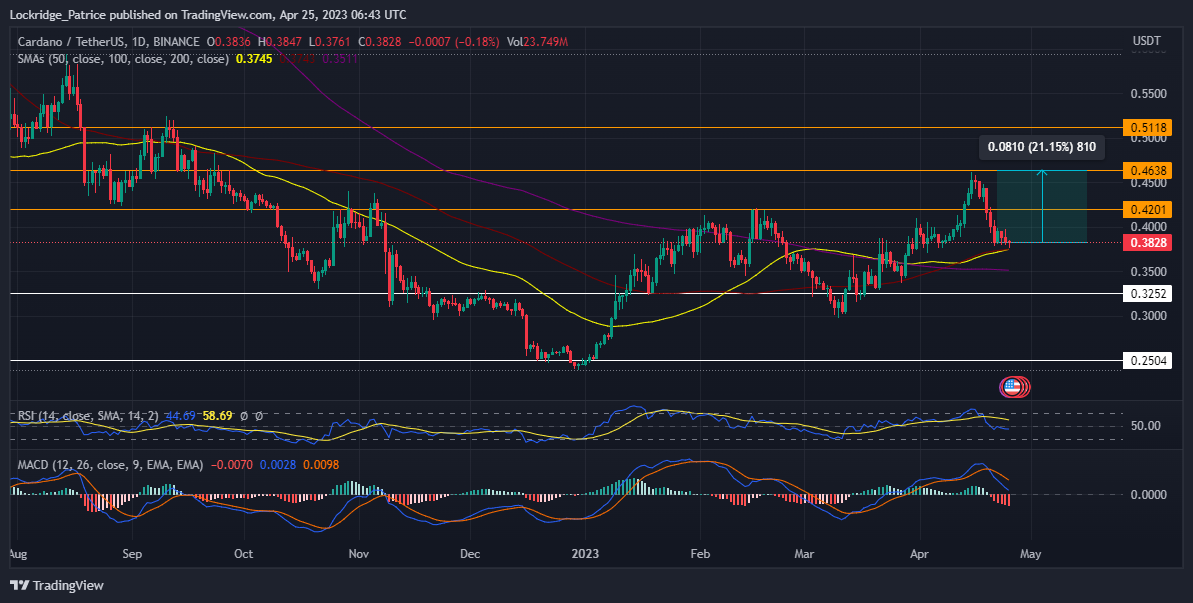 On the other hand, profit takers could threaten the bullish outlook for Cardano price. If selling pressure increases, Cardano price could drop below the support confluence at $0.37, exposing the altcoin to a cliff toward the 200-day SMA.
Failure of sidelined investors to rescue Cardano price from the downtrend could see ADA hit the $0.32 support level or, in the dire case, retrace the $0.25 support floor before a possible trend reversal.
The Relative Strength Index (RSI) position at 43 was concerning, indicating a possible downtrend.
ADA Alternative
Shift your attention from Cardano and consider DLANCE, the ticker for the DeeLance ecosystem. DeeLance is a blockchain ecosystem presenting an avenue for the world to work together smartly. It operates as a freelancing and recruitment platform using Blockchain Technology. The decentralized platform revolutionizes how freelancers link up with their prospective or potential employers.
Hey DeeLancers! 👨‍💻

DeeLance is making headlines. Read the news 🗞️🙌https://t.co/r71NPM5hOc

Don't miss out on the chance to become part of the DeeLance community. Join Presale now! ⬇️https://t.co/XHnTqVzeWf

#crypto #NFT #DeeLance pic.twitter.com/A4KzLoKz9h

— DeeLance (@deelance_com) April 24, 2023
Users on the DeeLance platform have to develop their own professional identity on the DeeLance Metaverse. The metaverse provides an avenue for socialization with other participants. You can also purchase commercial land or office space and establish advertisement billboards to promote your brand. You can also enjoy exclusive access to a Metaverse VIP experience and unlimited exposure to unique tools and services. Given that all of these use cases require the DLANCE token, the altcoin already has some practical applications even before listing. Notably, the number of use cases sometimes hints at more value for the token upon its debut.
Further, while operating within the Metaverse, DeeLance users can openly interact with buyers within custom office spaces. This makes it possible to discuss potential projects or keep up with market trends. It also allows you to connect in a way that was not possible in the past, such as buyers and sellers being able to interact directly with each other. This increases the chances of making personal and professional connections.
And speaking of connections, freelancers can build their own network of colleagues in the Metaverse lobby arena. This is great, as freelancers often are out all on their own. This networking capability allows them to connect with others to learn and potentially build up their own business as well.
Hey DeeLancers! 👨‍💻

Ready to take your freelancing journey to new heights?

🌌 Explore the boundless universe of #DeeLance and unlock Metaverse VIP Experience!

Adventure awaits – don't miss out! – Get $DLANCE Now ⬇️https://t.co/ViNzSDSG35#Deelance #metaverse #Crypto pic.twitter.com/fAdKyxr0wO

— DeeLance (@deelance_com) April 17, 2023
Benefitting From The Recent Ethereum Uptick
DeeLance is among the altcoins that have benefitted from the recent bounce-back success displayed by Ethereum (ETH) price. With barely weeks into the presale, DeeLance has been able to raise upwards of $458,570 USDT. Moreover, the project is blasting through presale stages as investors continue to join early so that they can capitalize on the lower prices that are currently running.
It is worth mentioning that early investors will enjoy amazing profits as prices are set to increase across subsequent stages. As such, you must act now to get the biggest possible return on your investment (ROI).
Read More
DeeLance - New Web3 Coin Presale
First Decentralized Freelancing Network
Find Employers in the Metaverse
NFT Marketplace, $100k Giveaway
Presale Stage One Live Now
SolidProof & Coinsult Audited
Join Our Telegram channel to stay up to date on breaking news coverage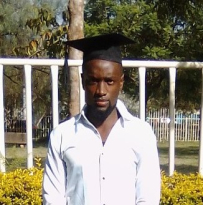 Lockridge is a believer in the transformative power of cryptocurrencies and the blockchain industry. He has always had a knack for crypto and helping traders and investors benefit from expert technical price analysis while keeping them abreast of all market and industry developments. He aims to decouple the industry from its perceived complexities and strives to be a voice of…