Cardano Price Dips 3% As Bulls Push For Lower Entry Positions – Can ADA Reach $1 Before April? - InsideBitcoins.com
Join Our Telegram channel to stay up to date on breaking news coverageAltcoins have been lagging behind the largest cryptocurrency, Bitcoin (BTC) as it closes in on the $30,000. Cardano price has not...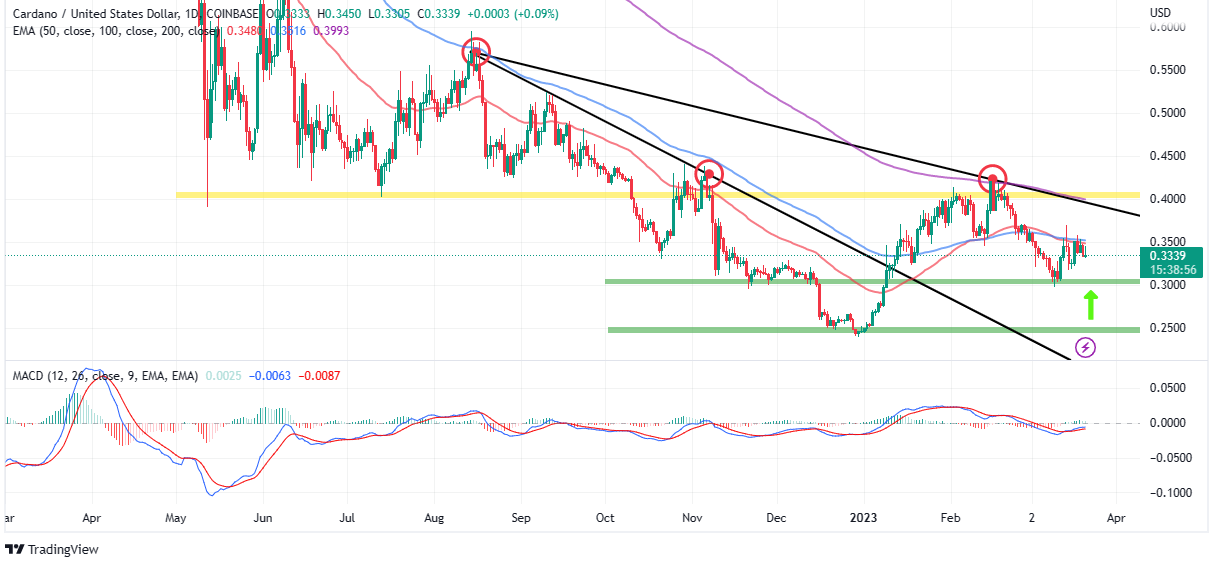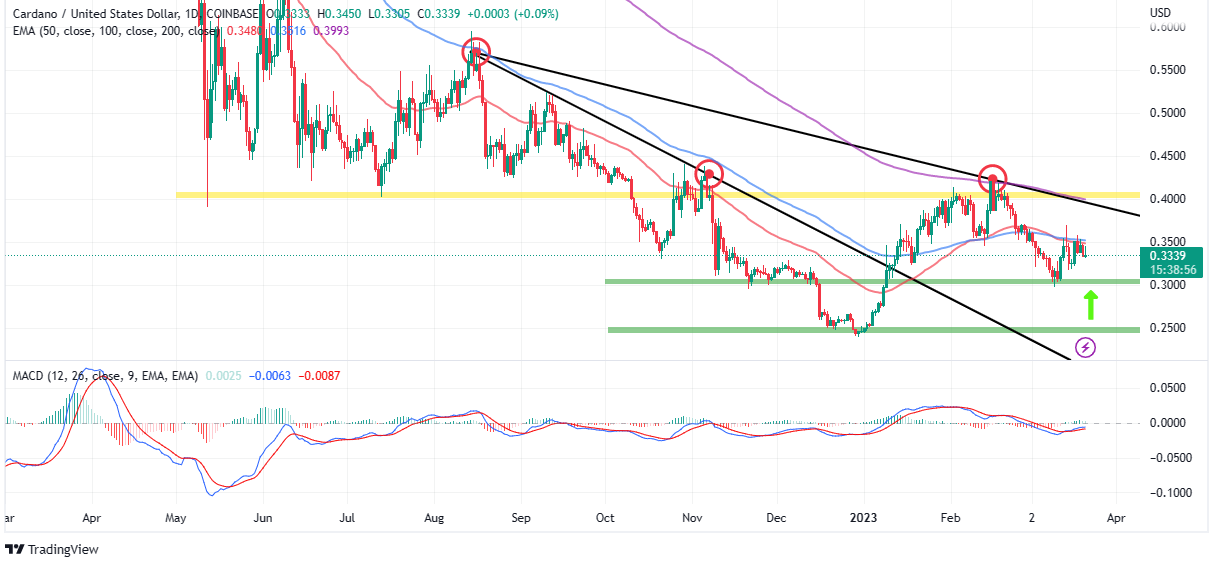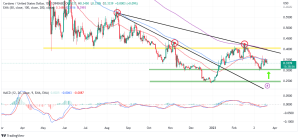 Join Our Telegram channel to stay up to date on breaking news coverage
Altcoins have been lagging behind the largest cryptocurrency, Bitcoin (BTC) as it closes in on the $30,000. Cardano price has not performed differently from other altcoins, only managing a 12% move since March 1 to trade at $0.33 at the time of writing.
However, we must take into account the failed push to $0.3682 on March 14, which culminated in the ongoing correction. If Bitcoin's dominance continues to rise, altcoins will have lesser room to breathe and consequently stifle their recovery.
Bitcoin dominance now sits at 46.4% of the entire crypto market after growing from 42.38% on March 1. Experts expect Bitcoin price to cool off the rally, giving altcoins a leg up following the release of the United States Federal Reserve's decision on the interest rate hike on March 22.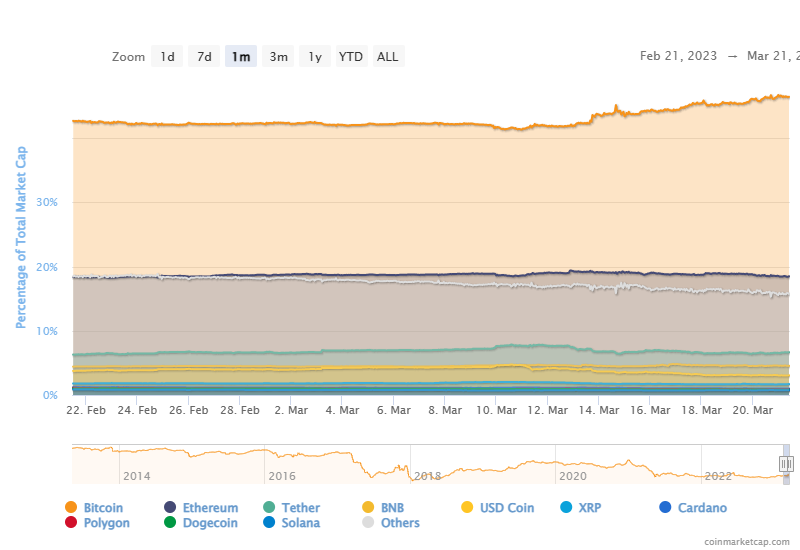 Cardano Price Eyes One More Dip Before Substantial Trend Reversal
The support established at $0.25 is functioning as the Cardano Price downside point of control for medium and long-term investing. On the upside, $0.40 is the point of control likely to keep ADA suppressed or if broken, could boost the smart contracts token toward the $1.00 mark.
Meanwhile, $0.30 is the Cardano price pivot point. Remember, ADA settled at this level in early March after it had shed more than half of the gains accrued in January and part of February.
ADA price bounced off the buyer congestion at $0.30 and tested resistance at $0.35 in last week's trading. The candle wick reached $0.3682 before bears aggressively pursued the reins.
Adding credence to the supply area at $0.35 are two moving averages: The 50-day Exponential Moving Average (EMA) (line in red) and the 100-day EMA (line in blue).
With Cardano price trading at $0.3351 at the time of writing, it lacks the momentum to successfully deal with the hurdle at $0.35. Therefore, traders could be considering letting ADA slide a bit more to $0.30 where they can capitalize on the reduced price for new entries.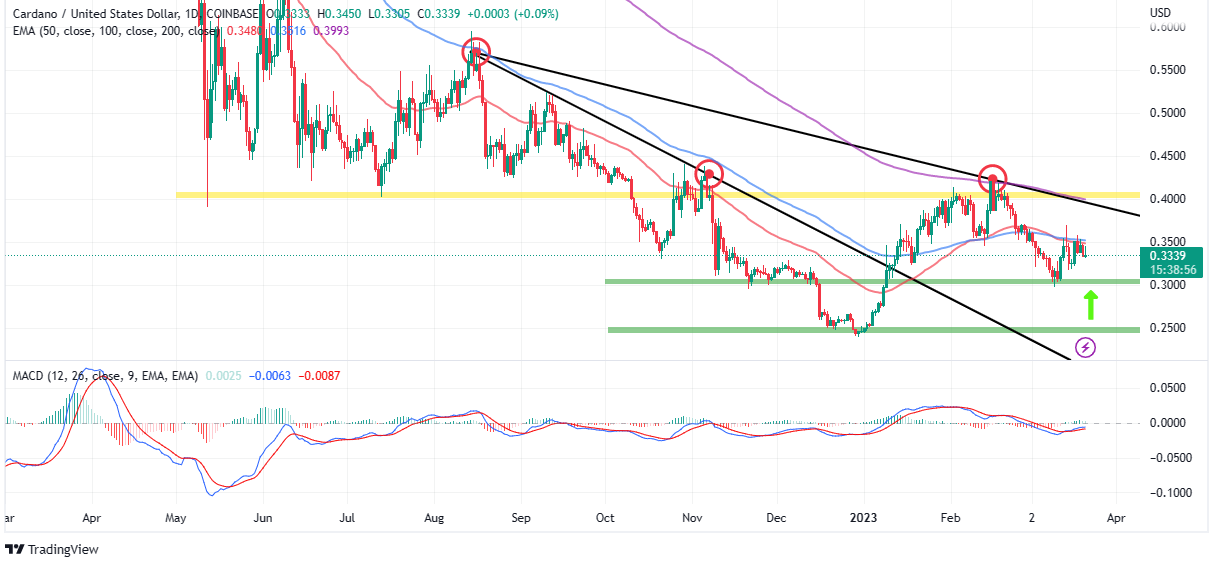 The Moving Average Convergence Divergence (MACD) indicator dons a buy signal, although not a strong one. Traders are unlikely to buy ADA below $0.35, which means they are waiting for the token to get rid of the confluence resistance created by the 50-day EMA and the 100-day EMA.
Another daily close below $0.35 could flip the buy signal from the MACD into a call to sell ADA. Traders should closely watch the position of the MACD relative to the signal line to ascertain the direction Cardano price takes next.
It would be prudent to short ADA to $0.30 if the MACD line in blue flips below the signal line in red. On the other hand, new buy orders may be activated above $0.35 and particularly after Cardano price has cleared the confluence resistance, as analyzed above.
A Cardano Price Rebound Beckons On The 4-Hour Chart
A descending trendline from mid-February is the area most traders would be watching when trading ADA this week. As observed on the chart, the line allowed bulls to avoid a dip below $0.33 over the last weekend.
After Cardano price climbed to $0.3682 and gave back the gains made, the falling trendline is once again in line to provide the much-needed support. The most likely outcome here is a rebound with the short-term target on the upside at the 200-day EMA (line in purple) and currently holding the ground at $0.3462.
However, stubbornly bullish traders may want to hold on until Cardano price brushes shoulders with the seller congestion at $0.36, illustrated in the yellow band.
On the other hand, we cannot immediately rule out the possibility of ADA price sliding to $0.32 and $0.30, respectively. Therefore, short orders could be activated if Cardano slips below the descending trendline, precisely below the immediate support at $0.33.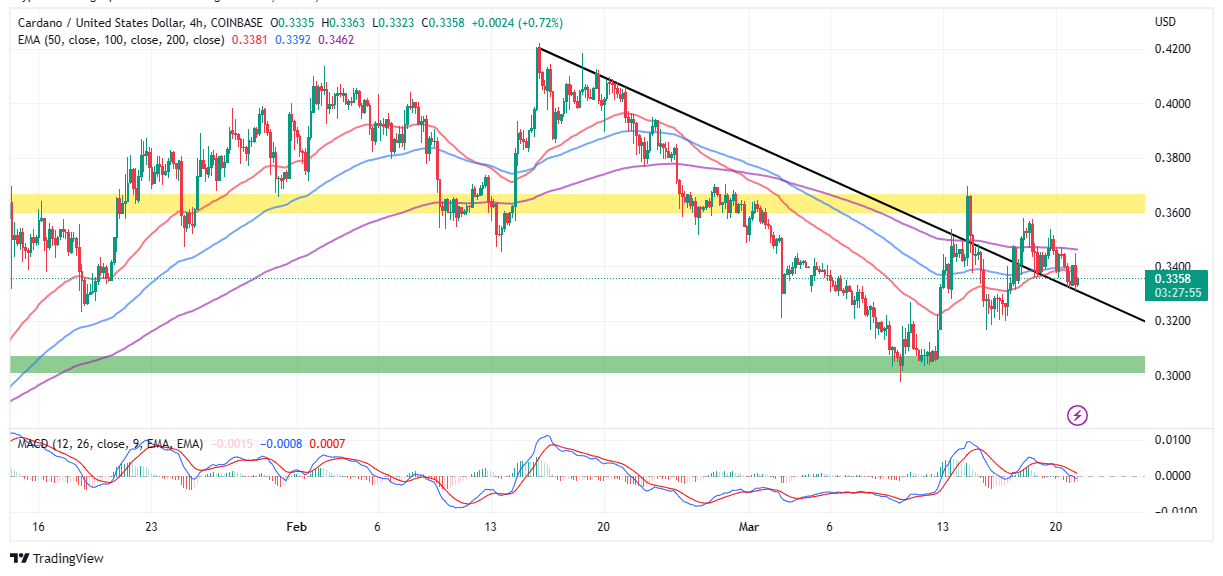 The MACD on the four-hour chart displays a vivid buy signal which must be fought at all costs if Cardano price is to make an immediate recovery from $0.33 to $0.3462 and $0.36, respectively.
However, if the sell signal remains intact in this and the coming sessions, investors can start to acclimatize to Cardano price sliding to $0.32 or $0.30 before the next recovery attempt.
Cardano Co-founder Hoskinson Fires At Regulators For Blaming US Banking Crisis On Crypto
The co-founder of the seventh-largest cryptocurrency with a market cap of $11.8 billion, Charles Hoskinson, is slamming central banks and politicians alike for blaming the banking crisis in the United States on the crypto industry.
The CEO of Input Output Hong Kong (IOHK) has advised investors not to "fall for it" and mark the names to help them make better decisions at the ballot box.
"The central banks and politicians created this banking crisis, and now they are blaming crypto. Don't fall for it, and keep a list to remember at the ballot box when election time comes. Be a single-issue crypto voter," Hoskinson said referring to a statement by John Van Overtveldt, a member of the European Parliament.
Overtveldt has been advocating for a total ban on crypto amid the US banking crisis to the extent of comparing digital assets to drugs.
"Another lesson to be learned from the current banking commotion. Enforce a strict ban on cryptocurrencies. Speculative poison and no economic or social added value. If a government bans drugs, it should also ban cryptos.," Overtveldt's statement reads in part.
PlanB, a renowned anonymous crypto analyst, argued while responding to Overtveldt's statement that central banks "have absolutely no idea what Bitcoin is," and don't "know what they are doing."
Cardano Alternatives To Buy
Before buying ADA, you may want to check out some of the best crypto presales for 2023. A dedicated team reviews the list of the best altcoins to buy, bringing to your attention possible options to diversify your crypto portfolio.
Love Hate Inu has been gaining popularity on social media which is evident from the success of its presale. The project's Twitter handle has attracted more than 33,800 followers since its first tweet on March 8th.
It is anticipated that this number will increase significantly in the upcoming weeks. Moreover, the project's Telegram channel has already amassed over 10,000 members.
Investors have been making hastes to secure LHINU tokens, which will power Love Hate Inu's blockchain-based social media polling network, before the second stage of the presale ends and prices jump.
Tokens are currently available for $0.00009 each in the ongoing presale, but that price will rise to $0.000095 in just five days. Over $1.22 million has been raised so far.
Similarly, Fight Out is one of the leading new cryptos pushing the play-to-earn gaming industry to the next level. It allows its users to improve the features of their avatars as well as battle in P2E games, where they are rewarded with FGHT tokens and other in-game items.
Fight Out is promising unrivaled content, exciting metaverse experience, and real-life events. Investors have been buying FGHT tokens in a presale expected to close later this month. So far $5.68 million has been raised.
Related Articles:
Love Hate Inu - Newest Meme Coin
Decentralized Polling - Vote to Earn
Early Access Presale Live Now
Ethereum Chain
Featured in Yahoo Finance
Mint Memes of Survey Results as NFTs
Staking Rewards
Viral Potential, Growing Community
Join Our Telegram channel to stay up to date on breaking news coverage
John is a crypto analyst and reporter, covering both macro and micro perspectives of the market. He reports on developing news stories in the crypto space touching on various subjects like price analysis, on-chain analysis, NFTs, DeFi, CeFi and the metaverse among other topics.
X
FightOut Presale - Earn Crypto for Working Out
FightOut Presale - Earn Crypto for Working Out
X
---