Cardano Founder Speaks On Ethereum Classic (ETC) Twitter Account Ban
Charles Hoskinson has shared his feelings on the recently suspended Ethereum Classic Twitter account. He Says ETC could lose about 670,000 followers.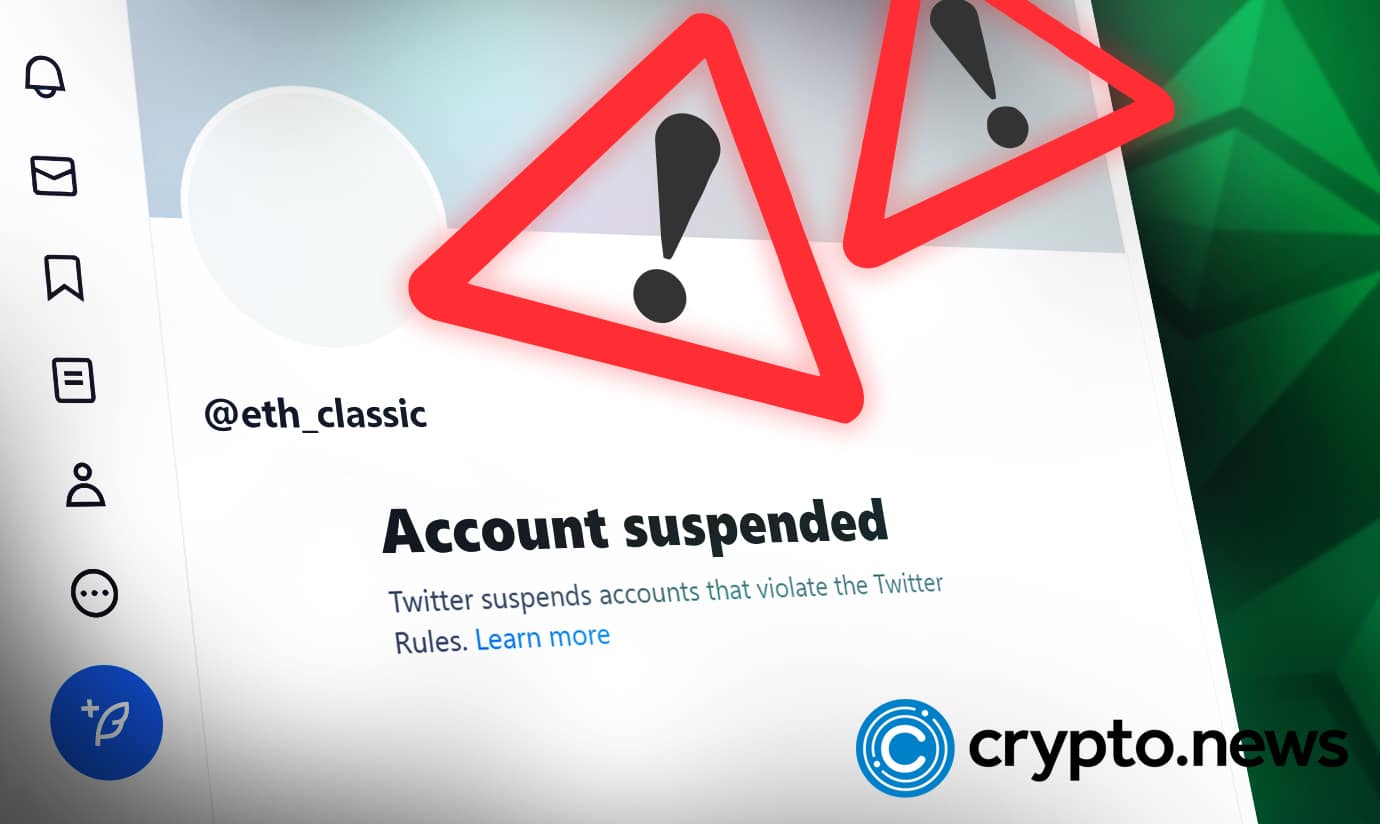 Charles Hoskinson, the founder of the third-generation blockchain, Cardano, has shared his feelings on the recently suspended Ethereum Classic Twitter account. He Says ETC could lose about 670,000 followers.
ETC Twitter Account Suspended
Charles Hoskinson, the founder of Cardano, a decentralized open-source, public blockchain platform, aired his views on the recent suspension of the Ethereum Classic (ETC) Twitter account early this morning, October 22, 2022.
In a tweet accompanied by screenshots of the suspended ETC account, Hoskinson drew the attention of members of the Cardano community to the development, saying: "This just crossed my desk a few minutes ago. Did the eth_classic Twitter handle seriously just get suspended?"
The suspension of the account is said to have resulted from a controversy that ensued earlier this month over the changes made to the Twitter account of Ethereum Classic. As of the time of the suspension, the ETC account had over 600,000 followers. Hoskinson, in his post, noted that there is a possibility that Ethereum Classic could lose all 670,000 followers despite the "drama" that occurred.
Cardano and Ethereum Classic at Loggerheads
Hoskinson's conflict with Ethereum Classic started earlier this month when Ethereum Classic Cooperative withdrew its support for Input Output Hong Kong's 20% in-protocol treasury fee and Cardano's (ADA). Enraged by the decision, the Cardano team led by Hoskinson ceded control of ETC's Twitter account.
Revealing what transpired in a new Twitter thread, ETC Cooperative executive director Bob Summerville has stated that all efforts to get Hoskinson to donate or sell the account to the ETC community have proven futile as Hoskinson called the network a "dead horse" and urged Ethereum (ETH) miners to migrate to Ergo instead.
When asked by a member of the ETC community if he would return the account to the Ethereum Classic team, Hoskinson declined, claiming ownership of the Twitter account. He said:
"It's my account. As for return, I can't get back the millions of dollars of development we spent nor the years of time supporting a blockchain that didn't seem to want to do anything other than preserve a status quo. We'll call it even".
Ever since the controversy, Cardano founder Charles Hoskinson has been bashing ETC on Twitter, calling out recent updates made by the blockchain. Charles and ETC have a long-running history. Although he departed from ETC in 2014, he still supported the network outside and held honorary positions in the organization.
In a recent tweet, Hoskinson said:
"ETC still gives me sadness for what could have been. It's a dead project with no purpose or real compelling argument to exist outside of spite."
Ethereum Classic's Twitter Account Repurposed for Ergo
Shortly after the fallout between the two firms, Ethereum Classic's (ETC) Twitter account with over 670,000 followers was repurposed into a new account for rival proof-of-work network Ergo (ERG) on Oct. 6.
Replacing ETC's previous Twitter account, the new account is now being used to promote the network and provide updates for its community. ETC's new account has less than 500 followers as of press time.
On the brighter side, Ergo, whose previous account had just 64,000 followers, has seen its online community grow by more than 10x within 24 hours since the conversion.
The new development was met with mixed reactions from the crypto community. While some support Hoskinson's decision to repurpose the account, others criticize him.
---