Cardano (ADA) Price Gains Traction – Can Whale Investors Maintain this $30M Strategy? - ELEVENEWS
Cardano (ADA) price hit a 14-day peak of $0.27 on October 23, 2023, as the bullish crypto market momentum spreads toward mega-cap altcoins. On-chain data analysis examines how the bullish Cardano traders can...
Cardano (ADA) price hit a 14-day peak of $0.27 on October 23, 2023, as the bullish crypto market momentum spreads toward mega-cap altcoins. On-chain data analysis examines how the bullish Cardano traders can remain in control for the long haul.
Cardano price has conspicuously stagnated within the $0.24 – $0.29 narrow range since mid-August. Can the recent $30 million whale inflows propel ADA above the $0.30 psychological resistance?
Confident Cardano Whales Have Made $30 Million Capital Inflows in Two Weeks
On-chain data has revealed that the prolonged lack of activity among whale investors is a major driving factor behind Cardano's price stagnation in recent months.
But the whales (wallets holding 1 million to 1 billion ADA) have made noticeable capital inflows over the last two weeks, putting ADA price on the verge of a decisive breakout above $0.30.
As illustrated below, the whales' balances stayed flat between July 14 and October, as they consolidated their cumulative holdings between 20.25 billion ADA and 20.29 billion ADA. During that period, ADA prices hovered between $0.24 and $0.28.
But since the start of October, the whales have acquired 110 million ADA coins, bringing their balances above the 20.35 billion mark for the first time since July 2023.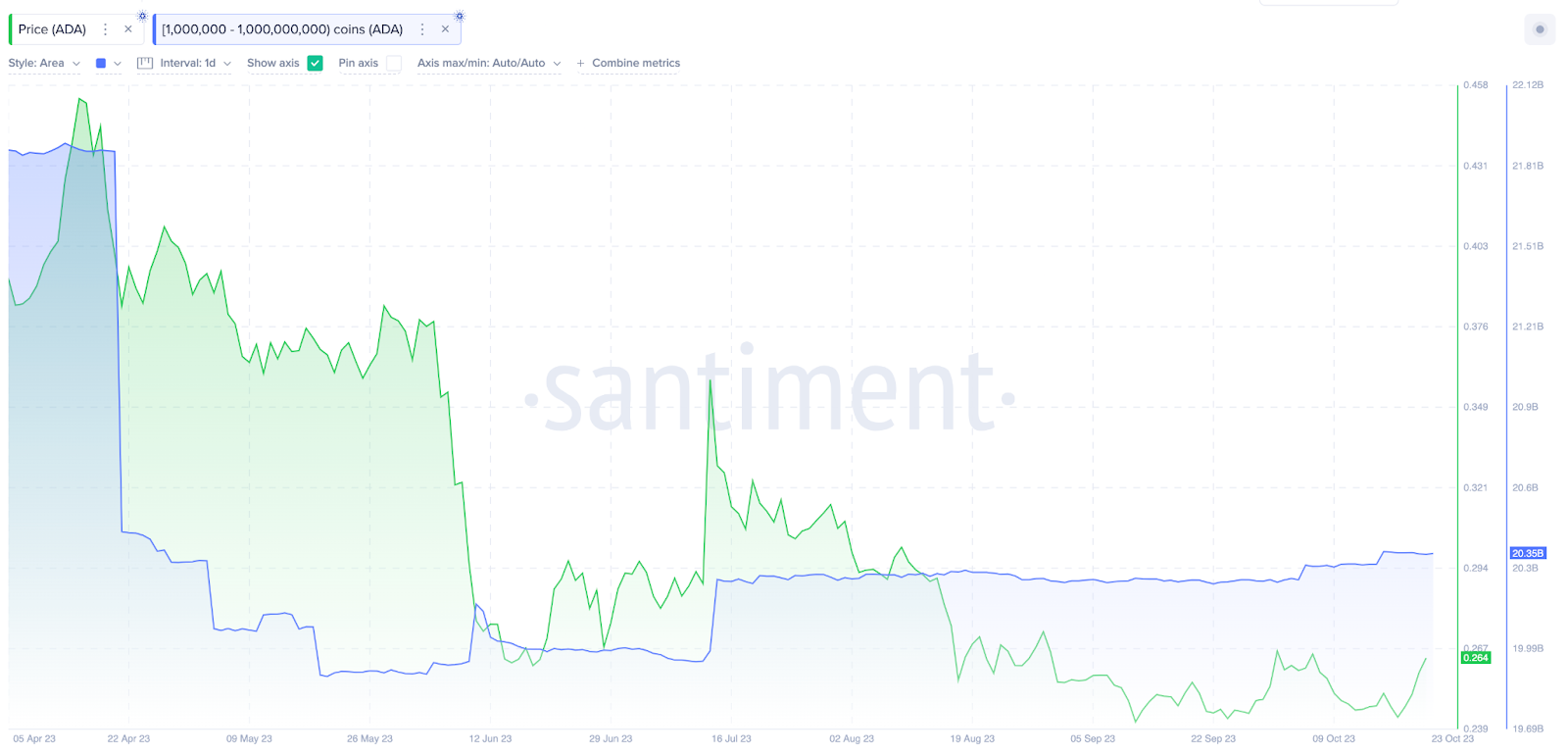 Cardano (ADA) Whales Wallet Balances vs. Price | Source: Santiment
The Whales Wallet Balances chart above tracks real-time changes in the number of coins large investors hold, otherwise called crypto whales. The 110 million ADA acquired in October is worth approximately $30 million at the current market price of $0.28.
This implies that after 3 months in consolidation mode, the whales are now positioned for bullish price action. Considering how influential these crypto whales often are, if they keep buying, other strategic retail investors could begin to mirror their trades.
Hence, ADA price has a fair chance to break out above the $0.30 resistance in the days ahead.
Read More: 6 Best Copy Trading Platforms in 2023
Retail Traders Could Join the Recovery Mission
Whale investors have started investing millions to position for the next Cardano price rally. However, that optimism has now spread across the retail markets as well.
The latest data from 10 prominent Crypto Exchanges, including Binance, Coinbase, and Bybit, shows Cardano bulls now dominate the market.
The Aggregregate Order Books chart below shows that the bullish traders have placed orders to purchase 311 million ADA coins. Meanwhile, that surpasses market supply, which currently stands at 300 million ADA.
If that difference widens, the sellers could be forced to increase their asking prices to fill their orders quickly, thus inadvertently pushing ADA prices further upward.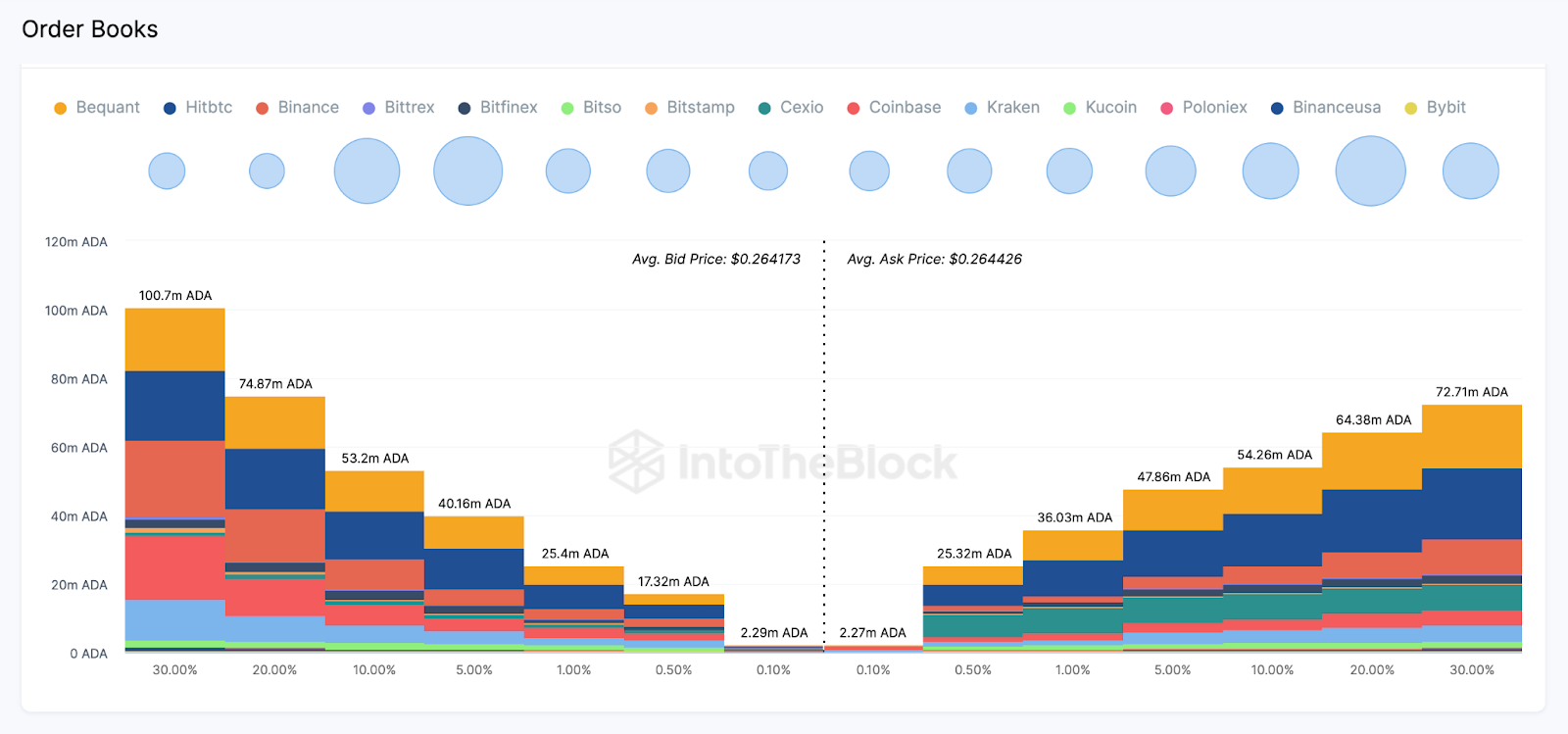 Cardano (ADA) Aggregate Exchange Order Books | Source: IntoTheBlock
The Aggregate Exchange Order Books chart depicts the price distribution of current active Cardnao buy/sell orders placed across recognized cryptocurrency exchanges.
As seen above, the purchase orders for Cardano far exceed market supply by 11 million ADA. This suggests that ADA day traders growing confident of a possible bullish ADA price breakout.
Read More: Crypto Signals: What Are They and How to Use Them
ADA Price Prediction: Scaling $0.30 Could Trigger a Decisive Breakout
Over the last 3-months, the $0.30 territory has morphed into historically significant resistance for ADA bulls. However, if the whales add to the recent $30 million capital inflows, it could intensify the bullish Cardano price momentum this time around.
The Global In/Out of the Money data, which groups all current Cardano holders by their entry price distribution, also confirms this bullish forecast. It shows that the giant sell-wall at $0.30 remains the major obstacle.
As depicted below, 508,900 addresses had bought 5.9 billion ADA at the average price of $0.31 Considering the recent historical and psychological significance of that price level, it could pose strong resistance to the ADA price breakout.
But if the whales keep buying, they could propel the Cardano price recovery above $0.30 for the first time since August.

Cardano (ADA) Price Prediction, IOMAP data | Source: IntoTheBlock
On the downside, the bears could push for a bearish ADA price reversal below $0.20. However, the bulls could mount an initial buy-wall at $0.25 in that case.
At that zone, 340,560 addresses had bought 5.13 billion ADA at the maximum price of $0.25
But if the bears flip that support level, an ADA price decline toward $0.20 could be on the cards.