Can ADA Price Retest Its Yearly High Amid Successful Cardano Summit 2023? - ELEVENEWS
Cardano's price has scaled the $0.35 resistance for the first time in 85 days. Here are some key on-chain data trends and social events that could impact the ADA price action in the days ahead. After weeks...
Cardano's price has scaled the $0.35 resistance for the first time in 85 days. Here are some key on-chain data trends and social events that could impact the ADA price action in the days ahead.
After weeks lagging behind the broader altcoin market, Cardano's price now looks set to join the rally. Will the Cardano Summit 2023 add some steam to the bullish momentum?
Crypto Whales Have Invested $30 Million In the Last 10 Days.
Following weeks of initial consolidation, Cardano whales sprang into action in late October, buying up 80 million ADA within the last 10 days.
The santiment chart below illustrates how the Whales (wallets holding 1 million to 100 million ADA) increased their holdings from 5.62 billion to 5.7 billion between October 27 and November 7.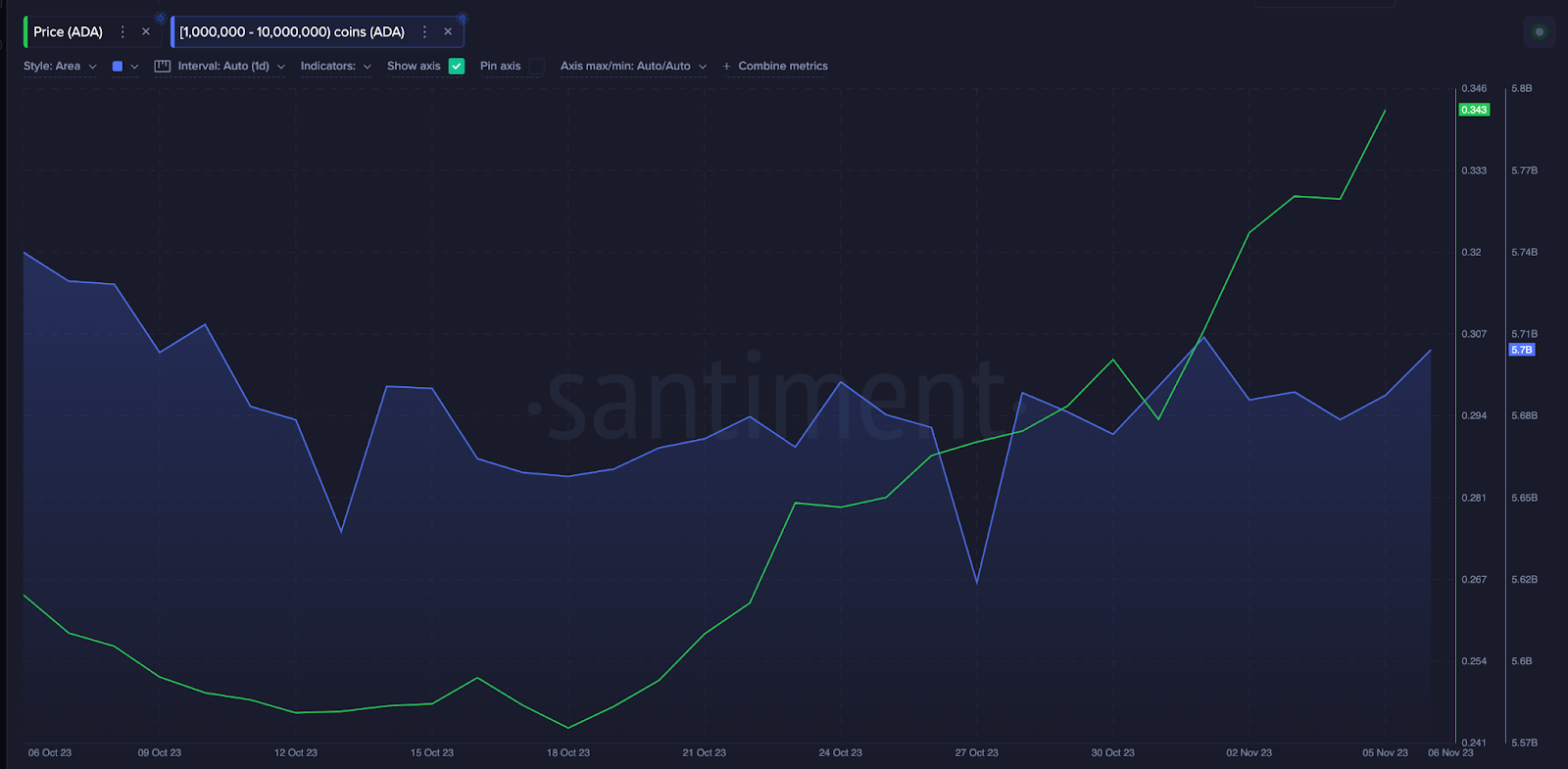 Cardano (ADA) Whale Wallet Balances | Source: Santiment
The newly acquired 80 million ADA coins are worth approximately $28 million when valued at the current market price of $0.35. This appears to have put upward pressure on the ADA price, driving it above the critical resistance zone at $0.30.
The whale cohort's total holdings are now at a 3-month peak of 5.7 billion ADA. This shows that they are positioning for more price gains.
If the whales influence strategic retail investors to take Long positions as well, it could further propel ADA price closer to the $0.40 mark.
Cardano Summit 2023 Event Intensified the Bullish Momentum
Cardano Summit 2023 was another major driver behind ADA's positive price action this week. From November 2 -4, the Cardano team held the main stage event in Dubai, featuring more than 20 community-led events.
Cardano (ADA) Summit 2023 Day 1. Source: YouTube
As the event unfolded, ADA received a significant boost in media attention and investor interest. According to Santiment, ADA Social Dominance hit a 3-month peak of 1.55% on November 2 before stretching further to 1.72% on November 7.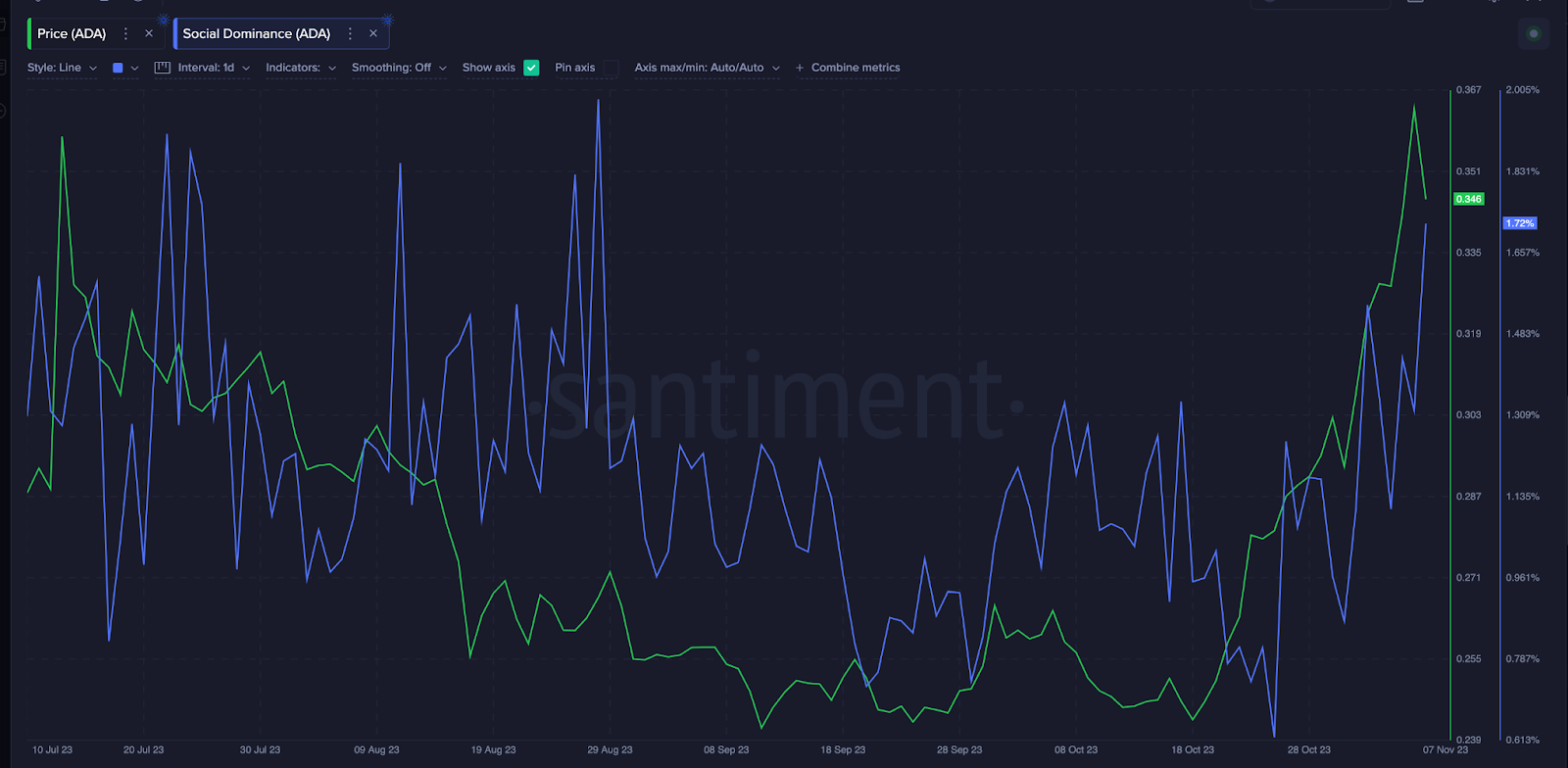 Cardano (ADA) Social Dominance | Source: Santiment
The Social Dominance metric captures the percentage share of social media mentions that a blockchain community pulls, compared to the 50 most talked-about crypto projects. An increase in social dominance during a rally often indicates market euphoria and possible price correction.
However, the success of the just concluded Cardano Summit 2023 could trigger a positive price reaction.
Strategic investors often anticipate that the new announcements and partnerships struck at such landmark community events could spur price action.
In effect, if the whale demand remains strong, positive media expectations surrounding ADA will likely drive the price toward $0.40.
ADA Price Prediction: Reclaiming $0.40 Could Trigger More Gains
After breaking through the $0.35 territory, ADA's price now faces minimal obstacles on the road to $0.40. From an on-chain perspective, the increased whale demand and media coverage will likely intensify the bullish Cardano price momentum this week.
The Global In/Out of the Money (GIOM) data, which groups the current Cardano holders according to their entry prices, also confirms this bullish prediction.
It, however, shows that the ADA price must first scale the initial resistance at $0.38 for the bulls to be confident of reclaiming $40. As depicted below, 180,240 holders had bought 3.96 billion ADA at the minimum price of $0.37.
If those holders close out their positions early, they could slow down the Cardano price rally.
But if the bulls can push aside that resistance sell-wall, ADA price will likely reclaim $0.40 as predicted.

Cardano (ADA) Price Prediction | GIOM data – Source: IntoTheBlock
Yet, the bears could negate this prediction if Cardano's price reverses below $0.30. But, in that case, the 438,870 holders that bought 6.2 billion ADA at the maximum price of $0.33 could mount a support wall.
If those investors can HODL firmly, Cardano will likely avoid a significant price retracement.