Datele colectate de TradingView arată că Bitcoin a crescut rapid, ajungând la 39.000 de dolari înainte de consolidare. Prețul activului a avut o revenire constantă, crescând cu aproape 7% față de minimele din 22 februarie.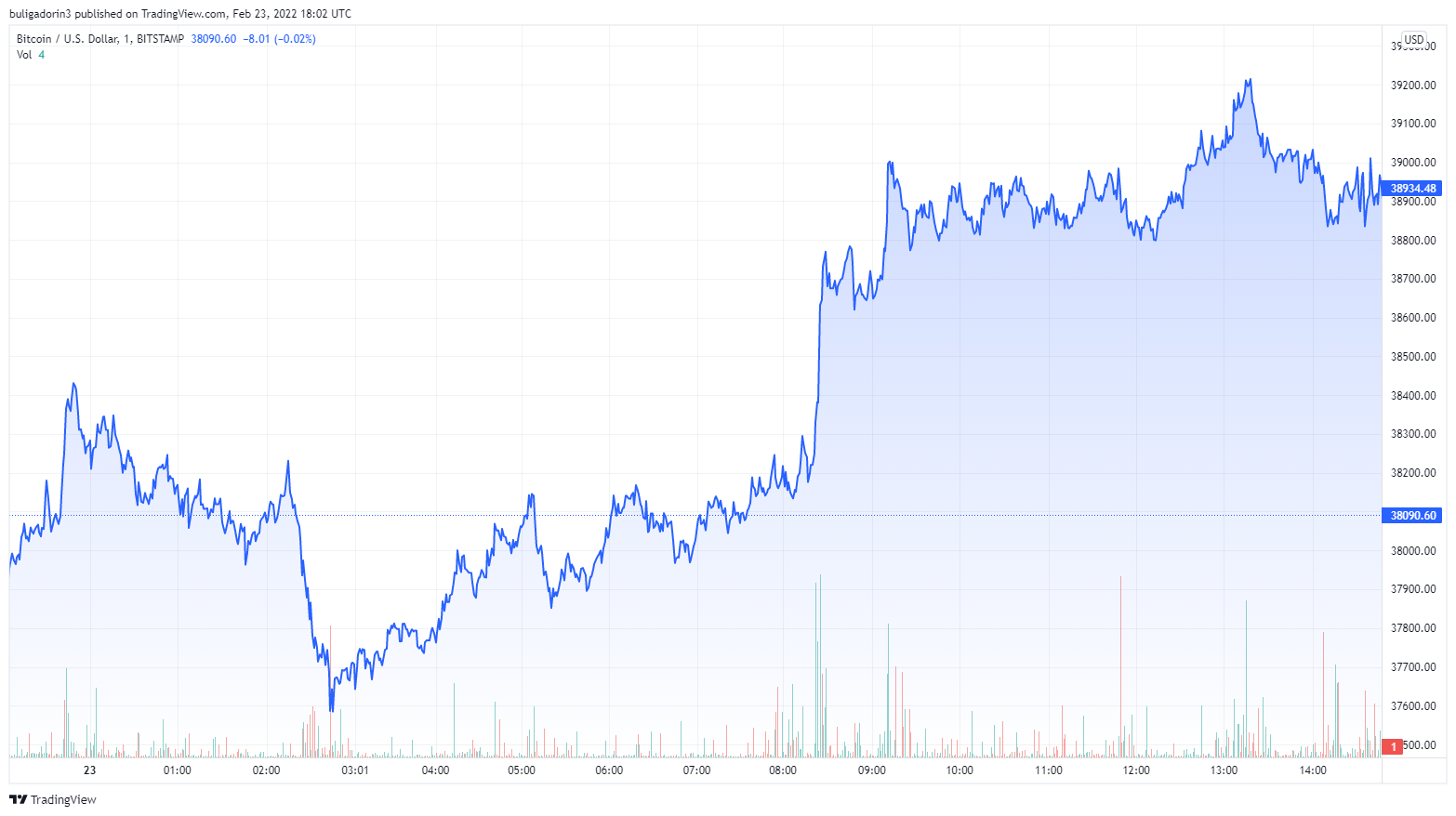 "Se pare că nu va exista o mică retragere, ci dimpotrivă este în creștere. Structura nu se schimbă prea mult, nivelul cheie rămâne la 40.000 de dolari", a explicat pe Twitter traderul Crypto Ed.
#BTC
Seems I'm not getting that little pull back but continuation higher already.
Doesn't change the structure really much.
$40k is key level pic.twitter.com/5CGvujGa2y
— Crypto_Ed_NL *not asking to send DM's* (@Crypto_Ed_NL) February 23, 2022
Anterior, Crypto Ed a avertizat că orice creștere la 40.000 de dolari ar putea fi o simplă revenire, urmată de o corecție și mai profundă decât cea observată în această săptămână
Rezistență puternică pentru Bitcoin la nivelul de 39.600 de dolari
Între timp, analistul Matthew Hyland a spus că nivelurile cheie de suport sunt acum la 36.300 de dolari și 33.000 de dolari. În opinia sa, 39.600 de dolari reprezintă zona de rezistență, așa cum era la începutul lunii februarie.
Keeping it simple, here are all of the significant support and resistance price levels for #Bitcoin that I have been discussing over the past few weeks
I condensed them into one chart and I will continue releasing updates no matter what direction the price goes: pic.twitter.com/O783PMybSZ
— Matthew Hyland (@MatthewHyland_) February 23, 2022
Cu toate acestea, după minimele din 22 februarie, Material Indicators a identificat o creștere a numărului de cumpărători după câteva zile de indecizie:
"Cumpărătorii de pe piață s-au trezit în sfârșit și au început să apese butonul verde. Am marcat un alt FireChart pentru a vă ajuta să interpretați mișcările zilnice".
Market buyers finally got off their hands and started pushing the green button. Marked up another FireChart to help you interpret the intraday moves. #BTC #Datavisualization #Crypto #tradingstrategy https://t.co/zw0ufgPIMt pic.twitter.com/rrpBB05vS2
— Material Indicators (@MI_Algos) February 22, 2022
Între timp, o privire asupra ordinelor de cumpărare și vânzare a exchange-ului Binance arată că Bitcoin a început să se confrunte cu o bandă de rezistență importantă.
Altcoins în creștere, începe un nou altseason?
Miercuri a fost o zi bună și pentru altcoins – principalele altcoins au învins Bitcoin în ceea ce privește performanța în ultimele 24 de ore.
Ethereum a crescut cu 6,1% la 2.700 de dolari. Multe alte criptomonede din Top 10 au înregistrat mișcări similare.
În fruntea clasamentului zilnic de performanță se află Terra (LUNA), în creștere cu 14% față de marți. Avalanche a crescut cu 11,8% iar Cardano cu 9,7%.
Mulți din comunitate au început chiar să discute despre un potențial nou "altseason".
Original Source: https://crypto.ro/analize/bitcoin-revine-la-39-000-de-dolari-niveluri/
Disclaimer: Cardano Feed is a Decentralized News Aggregator that enables journalists, influencers, editors, publishers, websites and community members to share news about the Cardano Ecosystem. User must always do their own research and none of those articles are financial advices. The content is for informational purposes only and does not necessarily reflect our opinion.