An Overview of NEAR Protocol
As more individuals became aware of cryptocurrencies and blockchain technology, Bitcoin, Ethereum, and other networks began to struggle with scalability limitations.  These issues are especially glaring on the Ethereum blockchain due to the increased interest in decentralized applications and...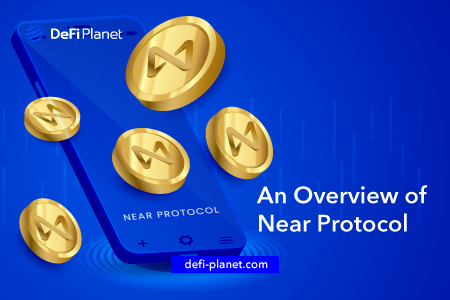 As more individuals became aware of cryptocurrencies and blockchain technology, Bitcoin, Ethereum, and other networks began to struggle with scalability limitations.
These issues are especially glaring on the Ethereum blockchain due to the increased interest in decentralized applications and non-fungible tokens. Due to excessive network traffic, gas prices and transaction costs on the blockchain are rising steadily, discouraging many users and developers.
Several teams are looking into different methods to scale blockchain networks, but the NEAR Protocol (NEAR) team focuses on sharding to get around the problems.
This article comprehensively explores the NEAR Protocol, explaining how it works, the technology that underpins it, its applications, and how to purchase it, among other things.
What is the NEAR Protocol?
NEAR is a decentralized application platform that provides a high-performing and secure foundation for developing scalable decentralized applications. The network can process up to 100,000 transactions per second and create blocks in less than a second. It also avoids the problems that are becoming more common in competing systems, such as low overall performance and concerns about how well they work with each other.
The NEAR Protocol intends to encourage a blockchain network to create and publish dApps on the DeFi platform and profit from staking and sharding. The concept of sharding is at the heart of the NEAR Protocol's design.
The NEAR Protocol can be used to pay fees for data storage and transaction processing. Users can also utilize the blockchain to stake currency tokens to run validator nodes on the network. The network's technology is based on the 'Doomslug' block generating mechanism. The NEAR protocol is both safe and permissionless.
How does the NEAR Protocol?
NEAR is a "base-layer" blockchain, like Ethereum, TRON, and Cardano. This means that it provides the framework on which other applications can be built and used.
NEAR uses Nightshade technology to achieve its huge throughput capabilities. Each set of validators processes transactions in parallel over a series of sharded chains as a component of the scaling solution. This increases the overall transaction processing capacity of the blockchain.
This technique differs from the sharding systems of the previous blockchains in that each shard produces a fraction of the next block, known as a "chunk." These transactions are processed and immutably stored on the NEAR blockchain.
The NEAR protocol provides developers with a comprehensive toolkit for constructing next-generation applications. Developers can build advanced apps that can sign transactions on behalf of users using NEAR's contract-based account model. These apps can execute agreements without the user having to be there to confirm the action.
The NEAR Protocol Architecture
Due to the enormous demand for Ethereum, the blockchain has been faced with scalability issues. While some advocate for scaling solutions to be implemented on top of Ethereum (Layer-2 solutions), other projects, such as NEAR, have chosen to develop new blockchains with distinct designs.
The deployment of sharding is the NEAR Protocol's proposed answer to this scaling challenge. Before going into detail about what this entails, it's important to understand the three primary functions of blockchain nodes: they process transactions; relay validated transactions and finished blocks to other nodes, and store the network's state and history. As network congestion grows, this means jobs become increasingly difficult for nodes to complete.
Sharding is the breaking or partitioning of the network into shards. Sharding reduces the computational strain (or fragments). With this strategy, each node only needs to run the code that is relevant to its shard. This lets shards run computations in parallel, which increases the network's capacity as the number of nodes grows.
NEAR employs a PoS system to reach network-wide consensus. To be considered for participation in PoS, nodes that want to be transaction validators must stake their NEAR tokens. Holders of tokens that don't want to run a node can delegate their stake to the validators they want. Every epoch (about every 12 hours), NEAR chooses validators using an auction method, and validators with bigger stakes have more impact on the consensus process.
Some validators are in charge of validating "chunks," while others are in charge of creating blocks that include chunks from all of the shards. Other nodes, known as "fishermen," monitor the network for harmful activity and report it. A validator's stake will be reduced if they behave improperly.
NEAR Tokenomics
The NEAR token is, without a doubt, the lifeblood of the NEAR Protocol network. In addition to staking, the token is used to pay transaction and data storage fees and vote on governance initiatives.
The intricacy of operations determines network fees, yet unlike many other initiatives, the NEAR Protocol has very cheap rates. Furthermore, 70% of all transaction fees are burned, and the remaining 30% is distributed to smart contract developers. The token can become deflationary as a result of such a mechanism. However, this would require the network to conduct a billion transactions daily rather than one million.
NEAR has a one-billion-token initial supply. During the NEAR ICO, 12% of the original supply was sold. Over 18% more were sold in seven closed investment rounds.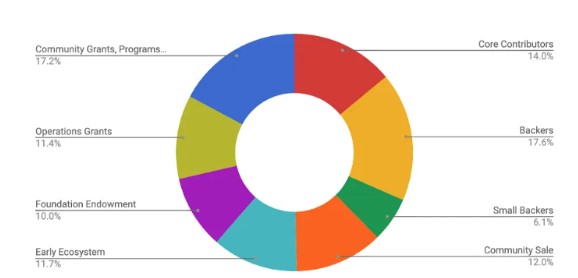 The leftover tokens will be utilized to expand the NEAR ecosystem and conduct community-based initiatives. A significant portion of the money goes to the NEAR and NEAR Foundation teams. In addition, every year, 5% of new NEAR tokens are issued, with 90% going to validators and 10% going to the protocol treasury.
Use Cases of NEAR Protocol
The developer-friendly features of the NEAR Protocol set it apart from other third-generation blockchains, as it provides infrastructure for Web 3.
The Protocol empowers millions of individuals worldwide to start and explore new businesses and communities to create a more sustainable and inclusive future.
Let's take a look at some of the most common NEAR Protocol applications:
NEAR is making DeFi more accessible to everyone, especially those new to the crypto world. DeFi is live on NEAR Protocol and is available to producers and users all over the globe, thanks to the launch of Rainbow Bridge. In NEAR Protocol-based dApps, all Ethereum-based assets are now fully functional and usable.
NFT is a one-of-a-kind Blockchain-based digital certificate (Digital Ledger). It keeps track of the irrevocable ownership of any digital or physical object. The NFTs provide you with control over your digital assets. Since it is much faster, the NEAR Protocol is a better platform for NFTs than generation 2 blockchains.
Decentralized Autonomous Organization
The NEAR Protocol uses the DAO (Decentralized Autonomous Organization) to eliminate bureaucracy and empower token holders with more advanced accounts that allow them to store tokens, NFTs, and other assets on the platform.
Pros and Cons of NEAR Protocol
Pros
NEAR simplifies the creation, deployment, and administration of DApps for developers and other users.

It employs innovative sharding technology, which theoretically allows for indefinite scalability.

It is entirely open-source and decentralized.

Users do not need keys or browser extensions to register or access applications, as advanced security exists.

WebAssembly Virtual Machine (WASM) is compatible with smart contracts.

The protocol lets a portion of fees be collected for transactions that go through the smart contracts of an app.

Its gas fees are cheaper than Ethereum's gas fees.
Cons
NEAR is in direct competition with Ethereum and other crypto giants.

Due to new and emerging technologies, it has many rivals in the crypto industry.
How to Buy NEAR
NEAR Protocol's native token (NEAR) can be purchased on various cryptocurrency exchanges. We'll show you how to buy it on Binance in the steps below.
Step 1
Log in to your Binance account and select "Trade" from the drop-down menu. Choose between a classic and an advanced interface.
Step 2
Open the search bar by clicking on BTC. You'll see the available trading pairs if you type "NEAR" into the search box. We'll use NEAR/BUSD in this example.
Step 3
In the "Spot" box on the right, enter the quantity of NEAR you want to purchase. You can place the order using a variety of order types. Click "Buy NEAR" after selecting an order type, such as a market order. Your Spot Wallet will be credited with NEAR tokens.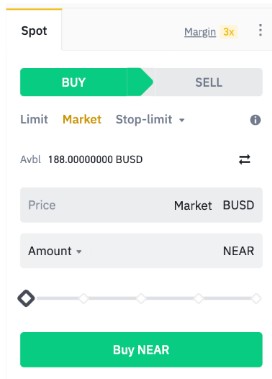 The Future of NEAR Protocol
The NEAR Protocol is regarded as one of the most promising blockchain initiatives. In a year, the number of daily transactions on the NEAR Protocol network more than tripled, reaching 100 million total transactions in March 2022, while the total number of addresses on the blockchain increased by an unprecedented 86%.
As of early January 2022, CryptoDiffer ranked NEAR sixth in terms of the average number of times developers worked on Github daily over the past 30 days.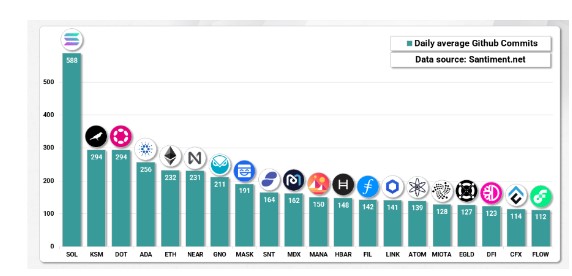 The NEAR Protocol team has also made connections with Chainlink, Ledger, Balancer, Ardana, TrustWallet, and other important blockchain projects.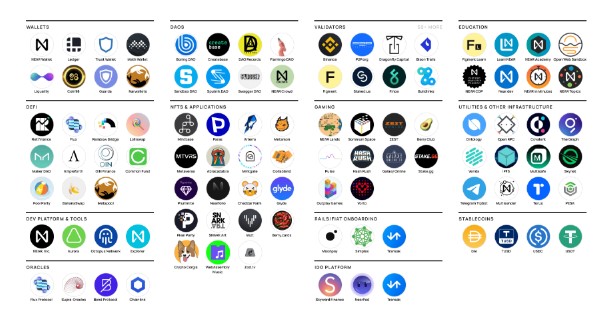 The initiative, however, remains underappreciated, particularly in the DeFi and NFT sectors. Given the blockchain's benefits, NEAR will likely attract large-scale players in the near future.
NEAR's fundamentals are sound, and the NEAR Protocol could grow even more this year. It has the potential to be the next "Ethereum killer."
In Conclusion
The NEAR Protocol is one of the most innovative and technologically advanced blockchain protocols available. It focuses on building decentralized applications (dApps) and utilizes sharding technology to make them scalable.

Scaling solutions from NEAR may interest developers who want to build DeFi devices and improve the performance of decentralized apps.

NEAR's roadmap includes more sharding upgrades and Layer-2 cross-chain solutions to help its blockchain grow and benefit developers and end-users.
If you would like to read more articles like this, visit DeFi Planet and follow us on Twitter, LinkedIn, Facebook, and Instagram.
"Take control of your crypto portfolio with MARKETS PRO, DeFi Planet's suite of analytics tools."
---