ADA Price Prediction: Cardano Experiences Resurgence But Faces Resistance at $0.35: Will Sellers Push for the Correction? - InsideBitcoins.com
Join Our Telegram channel to stay up to date on breaking news coverageThe price of the Cardano coin has been on a recovery rally, but it has hit a stumbling block at $0.35. Analysis shows buyers could not...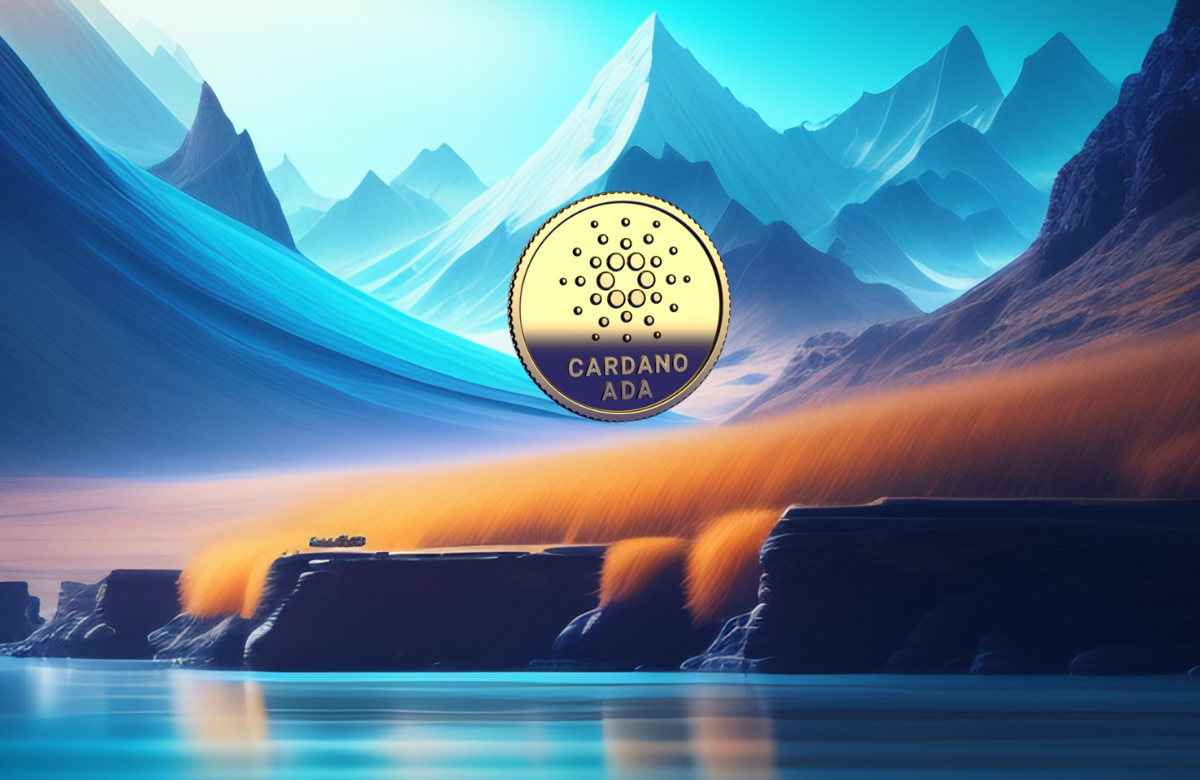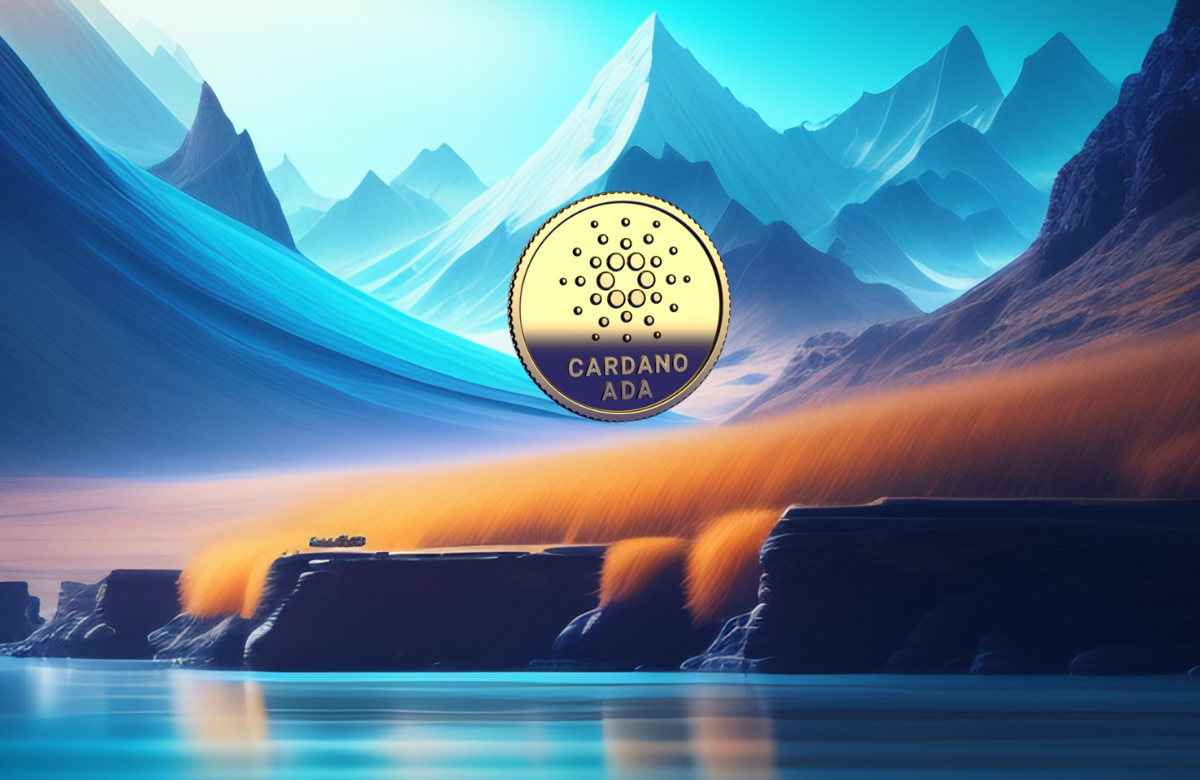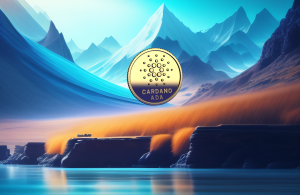 Join Our Telegram channel to stay up to date on breaking news coverage
The price of the Cardano coin has been on a recovery rally, but it has hit a stumbling block at $0.35. Analysis shows buyers could not push through this barrier, resulting in a long-wick price rejection. 
This indicates that traders are capitalizing on the price rallies to sell their holdings. If this selling pressure continues, it could result in ADA's price returning to its previous correction phase.As the crypto market continues to exhibit bullish trends, the Cardano coin has experienced a resurgence from its psychological support level of $0.3. 
Potential Upside Trend for ADA Despite Intraday Drop
Despite experiencing a slight drop of 1.85% in the intraday session, the technical indicators of ADA are pointing towards a potential upside trend in the future.
Created in 2017 by Charles Hoskinson, one of the co-founders of Ethereum, Cardano aims to provide a more secure, scalable, and sustainable infrastructure for decentralized applications and smart contracts. The network utilizes a proof-of-stake consensus mechanism to verify transactions and secure operations.
Cardano's unique layered architecture separates the platform's functionality into distinct layers, which helps to improve scalability, security, and flexibility while also allowing it to support multiple programming languages. Moreover, the company is known for its commitment to sustainability and social impact, further adding to its appeal.
Recently, Charles Hoskinson defended Cardano against crypto critics and praised the company's innovations.
Cardano Market Price Analysis
Initially priced at $0.02, ADA's value surged to $1.31 within 96 days, in line with the crypto market's bullish trend in 2017. However, the cryptocurrency market experienced a sharp decline in 2018, causing ADA's price to fall back to $0.02 by November.
It took over two years for ADA to surpass its all-time high of $1.31, driven by a new bull market cycle in early 2021. The cryptocurrency continued to climb and reached $2.46 in mid-May of that year, but a brief correction occurred between May and July before prices rose again. In early September 2021, ADA hit a new all-time high of $3.10.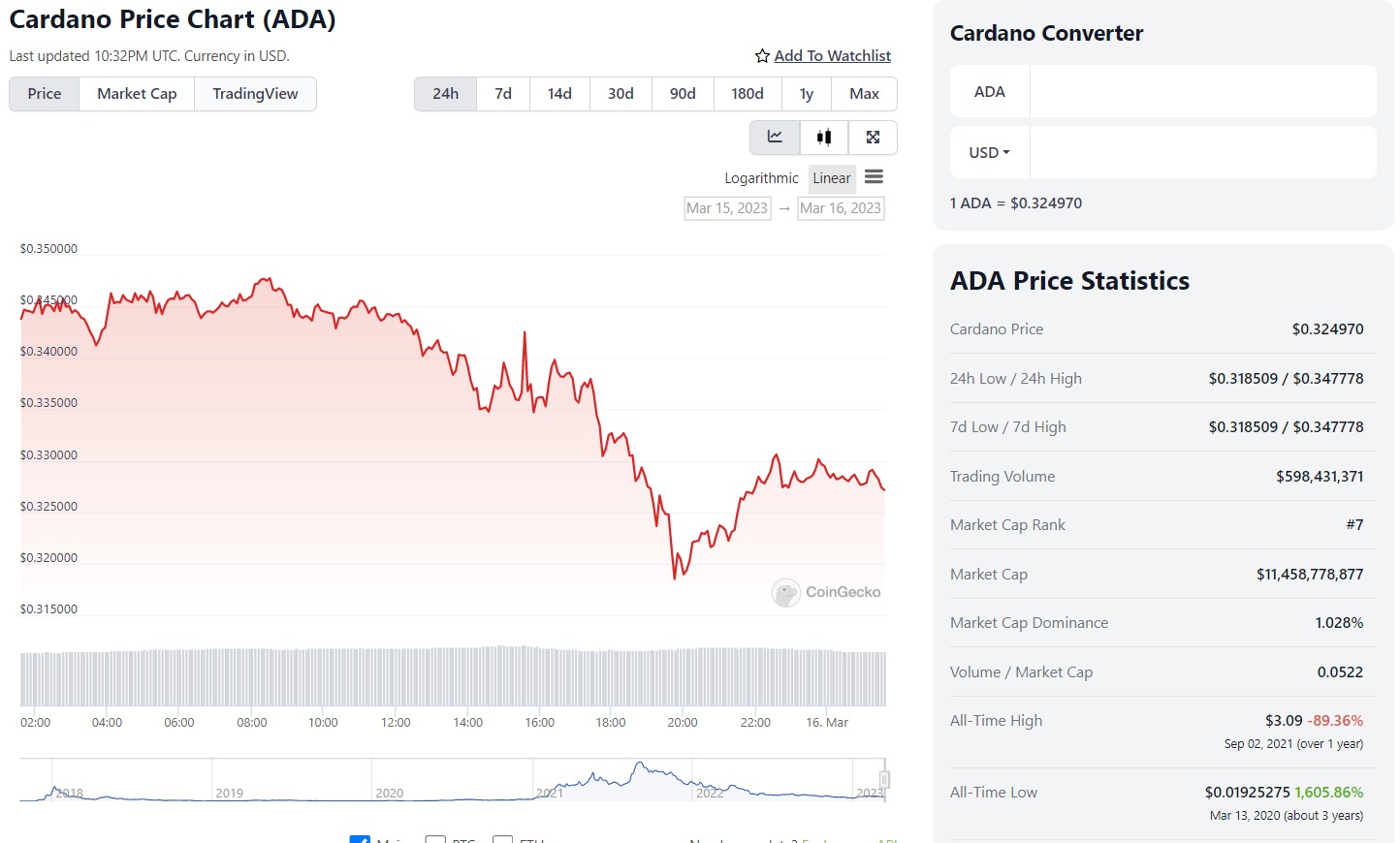 At the time of writing, Cardano (ADA) is trading at $0.327236, with a trading volume of $598,980,148 over the past 24 hours. The price has decreased by -4.82% in the last day and -1.26% over the past 7 days. With a circulating supply of 35 billion ADA, the market capitalization of Cardano is currently valued at $11,458,778,877.
With increased trading volume, the coin price has surged by 18.45%, reaching a flipped resistance level of $0.35. Despite attempts by buyers to breach this resistance level on March 15, the daily candle closed below $0.35. 
ADA Price Prediction: ADA/USD Chart Analysis. Is a Downtrend in Play?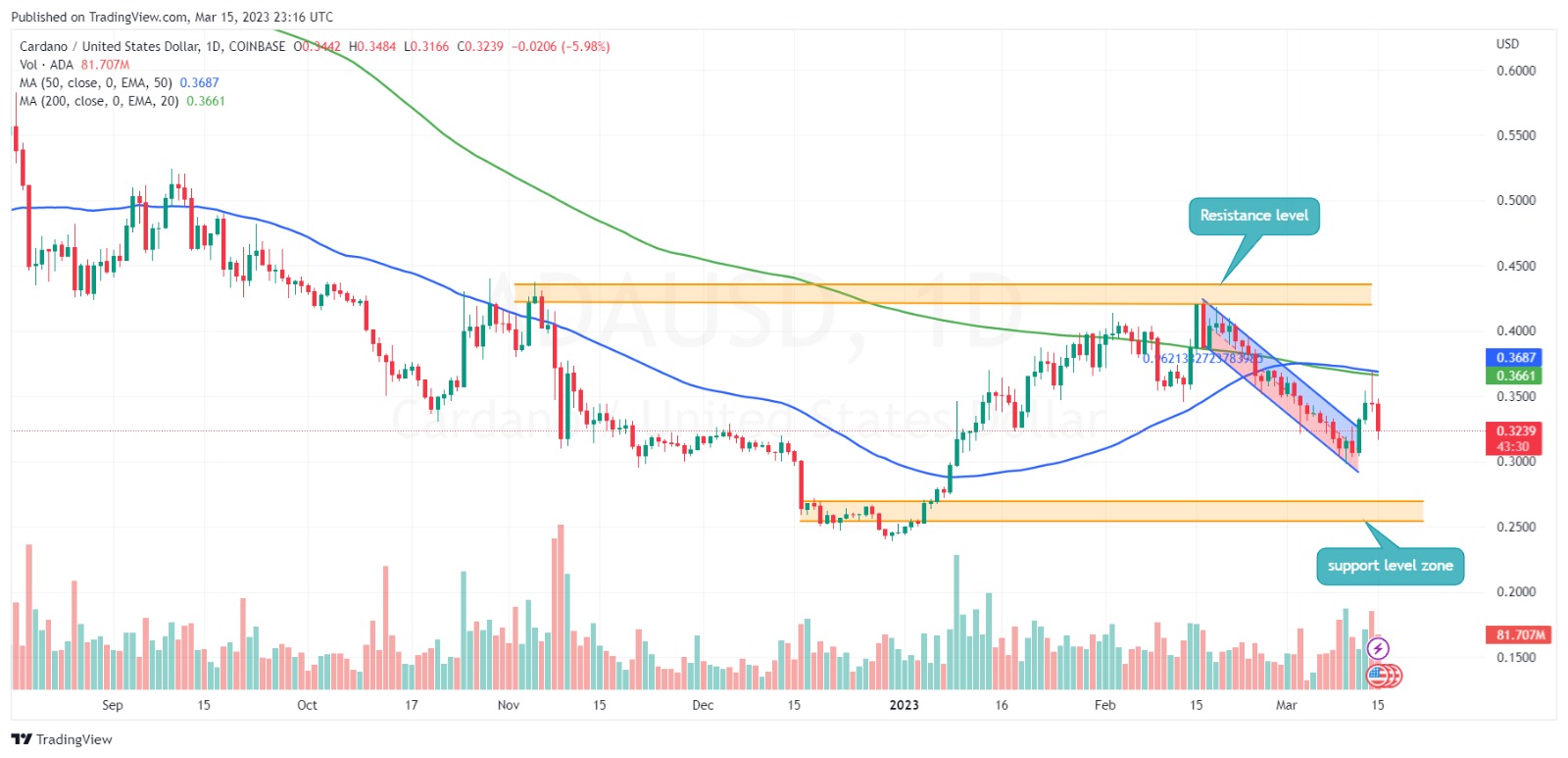 After hitting the resistance level at $0.4, ADA price took to a downtrend, reaching its previous support zone, which saw the bulls pick up on a correction. However, the bulls have not surpassed the 50-day and 200-day moving averages, which are currently acting as resistance levels at $0.35.
The bears have formed a long rejection candle, suggesting that sellers defend the level and may exert pressure on the price, leading to a correction. Nevertheless, two outcomes are probable from this move. The price of ADA is heading to retest a breakout, is on a bull trend, or is on a strong bearish move. If either of these takes place, we can expect the ADA price to reach its previous resistance at $0.42 or return to its previous support at $0.28.
Related
Fight Out (FGHT) - Train to Earn Crypto
CertiK audited & CoinSniper KYC Verified
Early Stage Presale Live Now
Earn Free Crypto & Meet Fitness Goals
LBank Labs Project
Partnered with Transak, Block Media
Staking Rewards & Bonuses
Join Our Telegram channel to stay up to date on breaking news coverage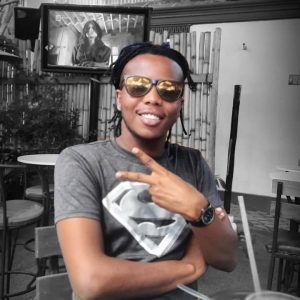 Evans Karanja is a content writer and scriptwriter with a focus on crypto and blockchain and video gaming. He has worked with various startups in the past, helping them create engaging and high-quality content that captures the essence of their brand. Evans is also an avid crypto trader and investor, and he believes that blockchain will revolutionize many industries in…
X
FightOut Presale - Earn Crypto for Working Out
FightOut Presale - Earn Crypto for Working Out
X
---